The odds of the Giants drafting Eli Manning's successor relatively early in the draft are greater than many may believe, according to Mike Garafolo of NFL.com (Twitter link). Team co-owners Steve Tisch and John Mara recently spoke to reporters, including Ralph Vacchiano of SNY, about the importance of finding a long-term option under center.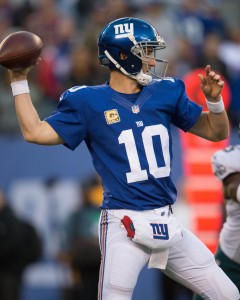 "No, you can't beat age. I think it's certainly at the back of everybody's mind — including Eli's," Tisch said. "There's no urgency. There's no panic. But I think if you're a responsible owner, responsible GM, you've got to start thinking about it."
"I think we have to start thinking about it," Mara said. "I think you always have to look at drafting a quarterback where you can. Our philosophy going into the draft — at least mine — is just take the best player. It doesn't matter what position he is. I think if there's a chance to take a quarterback — it doesn't have to be this year — then you should take him."
Now that the quarterback draft class of 2004 — Manning, Philip Rivers, and Ben Roethlisberger — is aging, all three's clubs have noted the possibility of selecting a quarterback this year. Giants general manager Jerry Reese said earlier this year his team would begin thinking about acquiring a youthful signal-caller, and the need is all the more important given that the 36-year-old Manning is coming off one of the worst seasons of his career.
Meanwhile, head coach Ben McAdoo is at least giving lip service to the idea that the recently-signed Geno Smith could be a long-term option for the Giants. "I can't see why not," McAdoo said of Smith, per Vacchiano (Twitter link). "We've got a long way to go for that." To be fair, Smith is still only 26 years old, but his sub-60% completion percentage and career touchdown-to-interception ration of 28:36 doesn't exactly scream starter.
Follow @PFRumors