On Sunday, reports surfaced from NFL.com's Ian Rappoport that the relationship between Buccaneers quarterback Jameis Winston and head coach Dirk Koetter was "not in a good place." Winston addressed the reports before the team's Week 15 showdown with Atlanta, saying, "there's nothing to see here," according to NFL.com's Jeremy Bergman.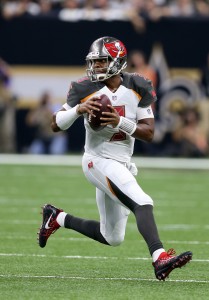 Winston told reporters, including the Tampa Bay Times' Rick Stroud (Twitter link), "When you lose, people are always trying to find something to nitpick and nag at, and definitely attacking the relationship of a head coach and a quarterback is a way to get this locker room in a panic. We don't condone that at all."
Rappoport attributed the fractured relationship to Winston not feeling supported properly when he was playing through an injury early in the season. Buccaneers offensive coordinator Todd Monken added his own thoughts to the source of the issue:
"You know what the strain is? The frustration of being 4-9. That's a frustration. When you put everything into it, what you've got is a quarterback that's very competitive, a guy that wants to be great and has had a frustrating year, probably some things on and off the field, and a head coach that does an unbelievable job coaching our players and quarterback. And that becomes news? Holy cow! News flash! We've got a strain in our relationship. There's not one person that can't say that's ever happened before. That is a flat-out joke that that even becomes news."
The Buccaneers entered the 2017 season with high hopes thanks to a young offense that appeared on the verge of breaking out. That hasn't happened and it is easy to see why the team's star quarterback would be frustrated. Whether the stain is the record or the lack of support, it's a story that might not go away too soon.
Photo courtesy of USA Today Sports Images.
Follow @PFRumors