Will Johnny Manziel wind up north of the border? Not unless the Hamilton Tiger-Cats make with the money.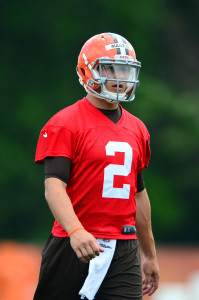 Johnny Manziel's agent Erik Burkhardt says that he is giving the Tiger-Cats until Jan 31 to work out a "fair deal," . Burkhardt adds that Manziel's salary must be "on par with what Hamilton has paid their QB in recent years, despite not having much on-field success. If no deal is reached, Manziel will move on to "other professional options" (it appears that Manziel's representation has a personality as bold as the quarterback himself).
Here is the statement, in full, courtesy of NFL.com's Ian Rapoport (Facebook link):
"Despite much speculation and several comments from the Hamilton Tiger-Cats and CFL, Johnny and I have remained silent and continued to focus on his training and preparation. Due to the tremendous support, Johnny wants to let Hamilton fans know where things stand and that he has been working hard in preparation for his comeback.
As context, the CFL maintains an archaic and restrictive rule, whereby their teams can claim an amateur players' rights, and essentially hold those rights into perpetuity, without any consideration or compensation for the player. The Hamilton Tiger-Cats of the CFL claimed Johnny's rights when he was a freshman at Texas A&M, and have continued to hold them for over 6 years.
Johnny and I have done our due diligence on the League and team, which has included visiting Hamilton, meeting with CEO Scott Mitchell, as well as multiple meetings and working out for Coach June Jones. All of these interactions have been very positive and served to reinforce Johnny's excitement for coming out to play for the Tiger Cats. Johnny was pleased to have the opportunity to talk ball with Coach Jones, who has publicly shared his belief that Johnny would be a good fit for the team he's trying to field.
As Hamilton has announced, and per the aforementioned restrictive rule requirements, they sent us a place-holder contract in order to maintain Johnny's rights and allow us adequate time to negotiate a deal. During our diligence process and at my request, Hamilton also graciously gave me permission to discuss potential trade options with at least one other club. Johnny and I met with those executives in Texas to discuss their organization and thoughts on Johnny's market and value around the CFL. However, due to Johnny's strong relationship with Coach Jones and Hamilton executive Kent Austin, we've made the decision to deal exclusively with Hamilton and give them until January 31st to work out a fair deal to make him their Quarterback. So that there will not be any ambiguity in regards to financial expectations, and so the public understands how seriously Johnny is considering this move, I will tell you that we believe 'fair deal' means on par with what Hamilton has paid their QB in recent years, despite not having much on-field success. If we cannot reach a deal with Hamilton by this date, we will turn our focus to several other professional options readily available to us."
Manziel, 25, years old, has not played in the NFL since the 2015 season. In eight career starts for the Browns, the former Heisman trophy winner completed 57% of his passes for 1,675 yards, seven touchdowns, and seven interceptions. There could still be untapped potential there, but the longer we go without seeing Manziel on the field, the harder it is to have faith.
Photo courtesy of USA Today Sports Images.
Follow @PFRumors