Despite being the oldest active NFL player, kicker Adam Vinatieri isn't planning on hanging up his cleats. The 45-year-old told Andrew Walker of Colts.com that while breaking the league's all-time points record would be the perfect exclamation to a Hall of Fame career, he can't envision himself retiring anytime soon.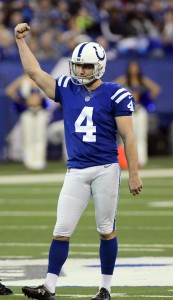 "I love it as much today as I had when I started 23 years ago," Vinatieri said. "I'm not looking to hang them up anytime soon, unless something happens that needs to be that way.
"I guess I'll take these one year at a time and see where it ends up. I would anticipate if I can stay healthy and be productive, I can anticipate catching up to Morten midseason or thereabout, and I guess at the end of the year I'd be 46. I'm not putting anything out of reach. I'm not looking and saying, 'No way,' or 'For sure.' But again, like I said, I just want to help our team be as productive as possible this year, and if everything works out well, hopefully we'll be having this conversation again next year."
The 22-year veteran is within 57 points of Morten Andersen's all-time points record, and he needs only seven more field goals to break Anderson's mark (he still needs 135 extra points to reach George Blanda's record). A 1996 undrafted free agent out of South Dakota State, Vinatieri has split his career between the Patriots and Colts. Along the way, he's earned three Pro Bowl nods, three first-team All-Pro honors, and four Super Bowl Championships.
Of course, that elusive fifth championship is another reason why the kicker is sticking around, as another ring would tie him with Tom Brady and Charles Haley for the most all time. Vinatieri mentioned that the opportunity to win another Super Bowl has played a role in him sticking around for so long, and he believes the Colts have a chance to win another title with him on the squad.
"We have a lot of things that can make this team successful and I look at this as a team that can make the playoffs moving forward," Vinatieri said. "And that was a big decision for me. I clearly wanted to stay in Indy. My family lives here. Everybody, we love the state of Indiana. We are all Hoosiers now. But I also felt like I wanted to play for a team that can win and I feel like Chris Ballard and hiring Frank [Reich], I talked to Frank a little bit as well, I think these two gentlemen can definitely turn this organization around so I'm happy and excited to sign with this team and to see where we can go with it."
Photo courtesy of USA Today Sports Images.
Follow @PFRumors