The NFL has suspended Buccaneers quarterback Jameis Winston for the first three games of the 2018 regular season, but another violation of the league's personal conduct policy could have much larger implications. In its announcement of the suspension, the NFL indicated that a future violation would result in "more substantial discipline, including a potential ban from the NFL."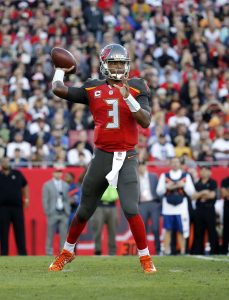 Winston's three-game ban was the outcome of negotiations between the NFL, NFLPA, and Winston's camp. The league reserves the right to suspend players for six games for violations involving domestic violence, so it appears the league insisted on a compromise in which Winston would face more serious consequences if he commits another serious off-the-field transgression.
Lifetime bans are uncommon in the NFL, but they have been handed down in the past. Similarly, we've seen players hit with indefinite suspensions, as was the case with former Cardinals linebacker Daryl Washington. It's impossible to know right now whether the league's stance on Winston is simply tough talk or if the NFL would actually levy a lifetime ban against Winston in the event of another personal conduct policy violation.
In a statement issued on Thursday afternoon, the Buccaneers said they were "disappointed that [Winston] put himself in a position that has been found to violate the policy." If Winston does not perform up to par in 2018, it's conceivable that his off-the-field incident will factor into his future with the team. The Buccaneers exercised Winston's fifth-year option for 2019 – worth nearly $21MM – but it is guaranteed for injury only.
Photo courtesy of USA Today Sports Images.
Follow @PFRumors