Browns linebacker Mychal Kendricks was charged with insider trading, according to an announcement from U.S. attorney William McSwain. Shortly after the announcement, Kendricks publicly fessed up to the crime.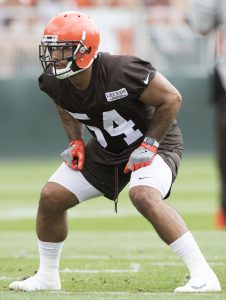 "I apologize. Four years ago, I participated in insider trading, and I deeply regret it," Kendricks said in a statement. "I invested money with a former friend of mine who I thought I could trust and who I greatly admired. His background as a Harvard graduate and an employee of Goldman Sachs gave me a false sense of confidence. To that point, I had worked my tail off since I was 5 years old to become the football player that I am today. I was drawn in by the allure of being more than just a football player. While I didn't fully understand all of the details of the illegal trades, I knew it was wrong, and I wholeheartedly regret my actions."
In a statement of their own, the Browns said that Kendricks will not join the team in Detroit for Thursday's preseason finale against the Lions. Kendricks will enter a guilty plea when the time comes, but it's not clear what kind of punishment the government will be seeking. Even if Kendricks escapes serious legal consequences, he could be subject to a suspension from the NFL.
Kendricks appeared in 15 games last season for the Eagles and racked up 75 tackles. He also logged 16 tackles in the postseason amid the Eagles' run to their first-ever Super Bowl title. After years of trade speculation, the Eagles cut Kendricks in May, freeing him up to join the Browns.
Photo courtesy of USA Today Sports Images.
Follow @PFRumors