Eagles free agent tight end Brent Celek tells 97.5 The Fanatic that he's leaning towards retirement (audio link). Celek didn't quite say that it's Eagles-or-bust if he were to play, but it was heavily suggested.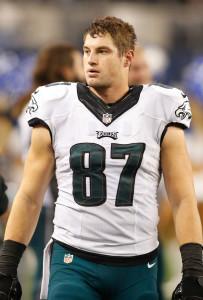 "I think I'm leaning more toward retirement," Celek said. "I've had a few offers, but none of them are worth leaving a city that I have been in for eleven years where I won the Super Bowl in my final year. It wouldn't feel right to put another uniform on."
Celek was overshadowed a bit in Philadelphia last year with Zach Ertz and Trey Burton ahead of him on the depth chart, but he appeared in all 16 games for the Eagles. He has been remarkably durable over the course of his career, missing just one game since entering the league in 2007.
Once upon a time, Celek was a major part of the Eagles' passing attack. He nearly hit 1,000 receiving yards in 2009 and he averaged 59 catches for 744 yards and 4+ TDs between 2009 and 2012. In recent years, he's been used more for blocking purposes. He has just 27 grabs for 285 yards over the last two seasons. In theory, the Eagles could circle back to him now that Burton is out of the picture, but they could just as easily forge ahead with their current group, which includes second-round pick Dallas Goedert and free agent pickup Richard Rodgers.
If Celek does return, it sounds like it will be with the Eagles. But, no matter what, he says there's one team he'd never play for.
"Hell no," Celek said when asked about the possibility of heading to Dallas. "Do you think I would play for the Cowboys? Philly is my home. If they offered me 10MM, I still wouldn't go."
Photo courtesy of USA Today Sports Images.
Follow @PFRumors