Shane Lechler may be a future Hall of Famer, but the veteran is currently fighting for a roster spot. As John McClain of the Houston Chronicle writes, the 42-year-old is competing with Trevor Daniel for the Texans' punter gig. While Lechler hasn't necessarily struggled during the preseason, his rookie competitor has been "outstanding."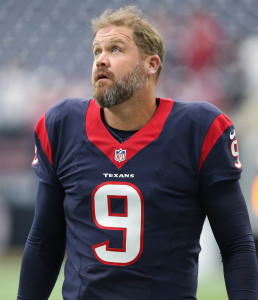 Lechler re-signed with Houston this offseason on a one-year, $2MM deal. The team brought in Daniel, an undrafted rookie out of the University of
Tennessee, shortly after the draft. While the competition was initially an afterthought, the rookie's recent play has put Lechler's roster spot in jeopardy. Through two preseason games, Daniel's gross averages have been 42 and 55.3 yards (Lechler's have been 45.7 and 37 yards).
"Bill (O'Brien) wants competition at every position, and I had to come in and be ready to go," Lechler told McClain. "There are only 32 of us who have this job, and they're always looking to replace and go younger or go cheaper – whatever it is."
While Daniel may have the upperhand when it comes to punting, Lechler has managed to contribute in other aspects of the game. As McClain writes, the veteran is considered an excellent holder, while Daniel never held when he was in college. Lechler also has the respect of his coaches and teammates, something that a rookie couldn't reasonably overcome.
After spending the first 13 years of his career with the Raiders, Lechler joined up with the Texans in 2013, and he hasn't missed a game during his tenure in Houston. Last year, Lechler led the league in punting yards with 4,507 and put his boot to the ball 92 times. The veteran is first all-time in yards per punt, and he's second all-time in punts and punting yards.
Photo courtesy of USA Today Sports Images.
Follow @PFRumors