UPDATE: Ian Rapoport of NFL Network has details via Twitter on the release, reporting that Gordon was late to the team's facility today and that it was an "overall trust issue for a player already on thin ice." Mary Kay Cabot of Cleveland.com reports Gordon was "not himself" when he showed up to the facility and "there was concern that perhaps he had relapsed and was struggling with his substance use again."
The Browns will release receiver Josh Gordon on Monday the team announced today (Twitter link).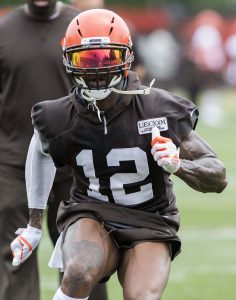 It's an absolutely stunning move and one that will send shockwaves across the league as the team has previously stuck with Gordon through everything. He's battled a hamstring injury since he returned to the team earlier this summer, but had a touchdown catch in their Week 1 opener. The Browns' statement, from GM John Dorsey, reads as follows:
"For the past six years, the Browns have fully supported and invested in Josh, both personally and professionally and wanted the best for him, but unfortunately we've reached a point where we feel it's best to part ways and move forward. We wish Josh well."
It was announced earlier today that the Gordon would miss the Browns' Week 2 game against the Saints with a hamstring injury, although that now appears to have been made up. It always seemed fishy since he had practiced fully each day this week.
Kay Cabot's reporting indicates the Browns thought he had relapsed and showed up to the facility under the influence. Whatever it was, they've kept him on the roster through multiple suspensions and substance abuse related absences before so it must've been deemed pretty serious.
Gordon will finish his career in Cleveland with 180 catches for 3106 yards and 16 touchdowns. Overall, it's a sad day as it seemed Gordon had finally gotten his life back on track and was in a good place with the Browns.
Photo courtesy of USA Today Sports Images.
Follow @PFRumors