The Cardinals have limped out to an 0-2 start thanks in large part to an anemic offense led by veteran QB Sam Bradford. Bradford has yet to throw a touchdown pass, but he has thrown two picks and has compiled a 55.6 QB rating, while Arizona has amassed a grand total of six points.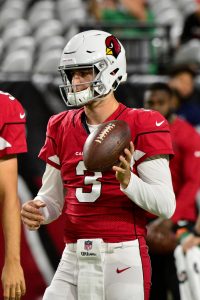 That performance, of course, has led to increased speculation as to when rookie Josh Rosen, the No. 10 overall pick in this year's draft, will be inserted into the starting lineup. We learned last night that, even if Bradford struggles against the Bears this afternoon, Cardinals fans should not expect an in-game promotion for Rosen, and it sounds as if Arizona will wait at least a couple of weeks before deploying the UCLA product.
Ian Rapoport of NFL.com (video link) says the Cardinals are generally disjointed on offense, and while Bradford has not played well, the team does not believe he is solely to blame for the offense's difficulties. As such, the club does not want to throw Rosen to the wolves and risk stunting his development until the offensive line and the skill position players start playing more cohesively. Plus, the Cardinals simply believe, after having watched Bradford and Rosen in preseason and in practices since the start of the regular season, Bradford still represents the team's best chance to win at this juncture.
But Arizona does have some financial incentive to get Rosen in the lineup sooner rather than later. As Adam Schefter of ESPN.com observes, for each game that Bradford is active this season, he will earn a $312,500 bonus. So, if the Cardinals were to release or deactivate Bradford this week, they would save $4MM in potential roster bonuses, a number that obviously decreases with each game that Bradford is on the 46-man roster.
Schefter also offers his take on Rosen's development. He says that Rosen has taken some first-team reps, and "those around him" believe he is making progress and will become the team's starting QB in fairly short order. Of course, that could still mean that Rosen will have to wait several more weeks, just as Rapoport suggested.
Follow @PFRumors