On Sunday, the Jets will face off against Khalil Mack at Soldier Field. Had things gone differently, Mack could have been on their side in Chicago. The Jets were willing to part with a 2019 first-round pick, a 2020 second-round pick, and more in a trade with Oakland, but the Raiders did not engage with the Jets late in the bidding process that ended with the Bears getting the star defensive end, Manish Mehta of the Daily News writes.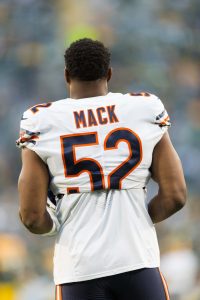 Ultimately, the Raiders traded Mack to the Bears for two first-rounders, a 2020 third-rounder, and a 2019 sixth-rounder. The Bears also received the Raiders' 2020 second-rounder and a 2020 conditional fifth-rounder.
The Jets might have been willing to match or exceed the Bears offer. Even now, coach Todd Bowles struggles to hide his affinity for the league's most terrifying defensive player.
"He's more of a complete outside backer than most," Bowles said. "There are fast ones, there are strong ones, but he can do all of the above. He can run around you. He can run over you. He can strip the ball. He can catch the ball. He can drop in coverage. He's a more complete player than a lot of players today."
The Jets believe that the Raiders did not want to trade Mack within the conference, which led to the Bears deal. The Raiders may have been able to get more out of the Jets, but they did limit their exposure to Mack for a long time by shipping him to the NFC. After the trade, Mack inked a massive extension with Chicago that will keep him in place through the 2024 season.
Photo courtesy of USA Today Sports Images.
Follow @PFRumors