Benched after just three games by a team that expressed optimism he would start throughout the season, Tyrod Taylor will naturally appear in trade rumors this month.
For now, though, the Browns' backup quarterback isn't demanding anything. Taylor acknowledged this could be a possibility going into the October 30 deadline.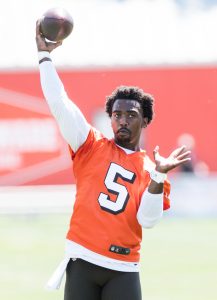 "You never know. I mean, I'm well aware of all that," Taylor said, via ESPNCleveland's Tony Grossi, of the possibility he'll ask the Browns to trade him to a quarterback-needy team. "I don't necessarily put it on my thought process every day. I come out each and every day aiming to get better and trying to find things to work on in my game. We'll see. That's more of a question for my agent. We talk. I wouldn't necessarily reveal that to the media."
Taylor told Grossi he's not angry about how quickly he was demoted for Baker Mayfield and is focused on trying to help the Browns. However, a trade would give him a better chance of further showcasing his abilities in a contract year.
As a starter for three seasons with the Bills, Taylor would profile as a player who could help a team. But it might take an injury to a starter for Taylor's value to increase. While some teams don't appear to be solidified long-term at this spot — the Broncos, Jaguars, Buccaneers, Giants or Dolphins perhaps — it's difficult to envision one of those pulling the trigger on a trade for Taylor at this juncture. Still, with Drew Stanton also on Cleveland's roster, Taylor makes sense as a trade piece — especially if the Browns in a few weeks don't believe they're a realistic playoff contender.
Any team that acquires the walk-year passer would have exclusive negotiating rights regarding an extension. The Saints' trade for Teddy Bridgewater may serve as a blueprint for a team that's intrigued by Taylor.
Although, Taylor did not play especially well during his three Browns starts. He completed less than 40 percent of his passes in two of Cleveland's three games, the second such performance being shortened by injury. He averaged just 5.5 yards per attempt this season. During his 2015 Pro Bowl campaign, Taylor averaged 8.0 yards per pass, threw 20 touchdown passes, six interceptions and ran for 568 yards.
Photo courtesy of USA Today Sports Images.
Follow @PFRumors