Mike McCarthy has missed the playoffs three times during his 11-year tenure with the Packers, but the team is in danger of missing the postseason for the second consecutive year. Green Bay didn't do much to help their efforts on Thursday night, as their loss to Seattle dropped their record to 4-5-1. The head coach was questioned for some of his play-calling decisions during the loss, including his decision to punt on what proved to be the Packers' final offensive possession of the night.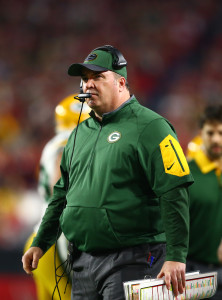 Naturally, there have been rumblings that McCarthy is now on the heat seat. The team might be willing to ride out the season without making a change, but reports from yesterday indicated that McCarthy might not be back for the 2019 season. The head coach previously signed a one-year extension that'd take him through next season, but as our own Sam Robinson pointed out, McCarthy is now reporting to team president Mark Murphy under the post-Ted Thompson power structure. With Brian Gutekunst now the GM, different voices will have a say if McCarthy will be brought back.
McCarthy partially addressed his job security during a weekly press conference. We've compiled the notable soundbites below, with a hat tip to ESPN's Rob Demovsky:
On whether he's focused on his future standing with the organization:
"I'm focused on what's in front of us. Every individual on the inside, particularly the football team, we have a 2018 commitment, and that's all I've ever focused on."
On if the "hot seat" rumors could have a negative impact on the locker room: 
"I don't think you can tune it out. That's the old days. That's when you had newspapers. But I think today's world, everything is accessible, everything is instant. I'm sure they're all aware. I think the bigger challenge is when you're having a lot of success. I think negativity is an unfortunate part of this business driven by the externals, but that's the business we're in."
On the team potentially not making the postseason for a second consecutive season:
"We set a standard here the past 12 years, and it's our responsibility to play to that standard. That's the way we approach it, but that's a blanket, general evaluation. There's obviously more that goes into that. But at the end of the day, there's so much that goes into each and every game throughout a seven-day period — obviously we're on a 10-day stretch here — and that's really where the energy has to focus."
On his decision to punt it in the fourth quarter vs. Seattle (fourth-and-2 from his own 33-yard line with 4:20 left, Packers were trailing Seahawks by three):
"We have a network and the numbers were being calculated. Three-and-out there, I think, puts us right about the 2-minute [mark]. … I have great confidence in our 2-minute offense, especially with Aaron. That's the decision we made. It's a solid decision.
"Being an offensive coach, particularly early in my career, I had to develop a sense of operating more on the team mode, because my natural reaction, especially earlier, was always just to go for it. That's the inside look at exactly what went on there. You could see at one point I started to walk to the referee because I was going to call the timeout and just make sure we were set, because I already had the play that I wanted. But we talked it over game management-wise, and that's the decision I made."
Photo courtesy of USA Today Sports Images.
Follow @PFRumors