Many in the league expect changes in the Jets front office after the draft, Mike Lombardi of The Athletic hears. Lombardi notes that GM Mike Maccagnan is on the hot seat, which could lead to a shakeup in the scouting department. It's not immediately clear whether Maccagnan himself could be in jeopardy after the draft wraps up, though it would be a shock if the GM were to get the axe before the start of the season.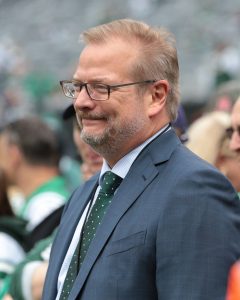 Meanwhile, ESPN's Rich Cimini echoes other reports of friction between Maccagnan and new head coach Adam Gase. Specifically, Cimini says the two had disagreement over free agency strategy, with CEO Christopher Johnson visiting team facilities to "observe the dynamic between the coach and general manager." Predictably, the GM downplayed the friction between the two.
"Actually, I think Adam and I have worked very well together," said Maccagnan. "I'm sure, like in any process, there are times where … you know, you work through the process.
"It's just like in a scouting meeting. You might have different opinions on a player. But, from my standpoint, I've actually had a very good working relationship with Adam. Quite frankly, as I've said before, he has a very good sense of humor. He makes me laugh quite a bit, which is one of the reasons why I like working with him."
While some pundits ran with Lombardi's story and assumed that Maccagnan's job was in jeopardy, Cimini says "from all indications, the Jets have no plans to make a change." The general manager naturally wouldn't discuss his job security, noting that his focus is on the draft.
"I don't think I'm really going to sit here and comment about my job," Maccagnan said. "I'm focused on the draft. I feel good about the situation we're in. I feel very good about working with Adam going forward."
Photo courtesy of USA Today Sports Images.
Follow @PFRumors