Suspended again for substance-abuse issues, Martavis Bryant filed for reinstatement on Monday, per Dan Graziano of ESPN.com. The former Steelers and Raiders wide receiver has been suspended since December.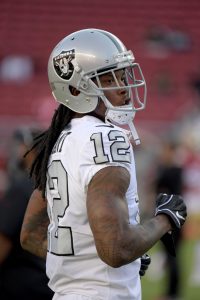 The 27-year-old wide receiver has worked with the NFL and NFLPA on his mental health, with the league and the union aiding Bryant regarding therapists and ADHD treatment, Graziano adds. This the latest in a line of Bryant bans; he missed all of the 2016 season because of a substance-abuse suspension and had been sidelined for stints of previous seasons.
It is not certain, however, that Bryant will play again. The deep threat "seriously angered" the NFL during his appeal process last year. Another report indicated Bryant has been critical of the league's limited assistance to players dealing with mental health issues. But he will attempt to convince Roger Goodell and Co. he has taken the necessary steps to return to the league. Bryant initially planned to apply for reinstatement in May, per NFL.com's Ian Rapoport (on Twitter), but waited in order to attempt to take further steps toward self-improvement. Graziano adds that Bryant has submitted to drug testing over the past several months, and those tests have presumably come back clean.
The NFL green-lit a Josh Gordon return last year, only to watch him again succumb to the substance-abuse problems with which he's frequently dealt. Substance abuse has sidetracked Gordon's career more than Bryant's, but the once-promising wideout saw his troubles interfere with his earning potential. Bryant (two 600-plus-yard seasons) did not make it to a point he could command a lofty receiver deal, being traded to the Raiders in the final year of his rookie contract and playing eight games last season (266 yards) under the cloud of another suspension.
Photo courtesy of USA Today Sports Images.
Follow @PFRumors