In September, the Bears landed Khalil Mack in a trade that sent shockwaves throughout the football world. In an alternate universe, Mack could have ended up with their divisional rivals. In an interview with 105.7 The Fan Packers President and CEO Mark Murphy says he tried his best to land the All-Pro superstar.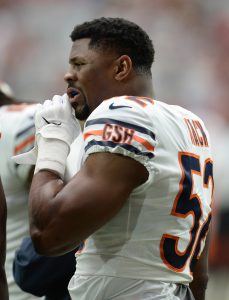 "Well the whole Khalil Mack thing. It's not that we didn't try," Murphy said. "We were aggressive. We wanted to sign him. I think, ironically, the Raiders took the Bears offer because they thought they would be a better [2019 first round] draft pick."
Ultimately, that was not the case – the Packers finished out with the No. 12 overall pick while the Raiders secured the Bears' No. 24 overall choice in the deal. Still, hindsight is 20/20 and it's possible that things could have played out differently if Mack was in Green Bay.
It's an interesting what-if scenario, but Murphy isn't necessarily losing sleep over it. After all, if the Packers landed Mack and gave him a monster extension in addition to Aaron Rodgers' huge contract, there wouldn't have been much left for the other players on the roster.
"I don't know if it is good to have the highest paid offensive player in the league, and the highest paid defensive player in the league," Murphy said. "Is that a good way to build a team?"
After the Packers missed out on Mack, the edge rusher inked a six-year, $141MM extension with Chicago that includes $90MM guaranteed and $60MM at signing.
Photo courtesy of USA Today Sports Images.
Follow @PFRumors