It has been a strange saga between the Cardinals and Patrick Peterson, but the star now says that he wants to stay with the team "for life." In an interview with SiriusXM, Peterson said he was willing to bury the hatchet with the club and remain for years to come.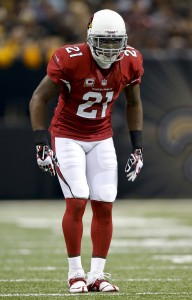 "Yeah, I would love to be a Cardinal for life, but things happen," he said. "Hell, something could change next month. The things happen not only in football, but in the world in general. So, I would love to be a Cardinal for life. I would love to be one of those guys to bring this organization its first championship."
Things, in fact, have changed frequently with Peterson. P2 demanded a trade in 2018, though he apologized for his outspokenness in January and said he's in Arizona "to stay." But, tensions resurfaced in April amidst speculation that the cornerback wanted out yet again. Then, in May, he was slapped with a six-game suspension for PEDs.
Peterson says much of his dissatisfaction came from the arrival of Steve Wilks and the major overhaul made to the defense. Now, with Kliff Kingsbury in charge, he seems happier.
"So it was just a lot of whirlwind going on last year," Peterson said. "And I was just frustrated. I love Arizona. I definitely want to be there. Just that time of the year, last year, like I said, it was just very, very tough to deal with. But as being one of the leaders, I definitely felt it shouldn't have gone that way. But people upstairs can trade players and try to shop players around whenever they need to. So I didn't see what was wrong with me asking for a trade at the time. So it kind of works both ways.
"But right now I'm in a very, very happy place with the team. All of this is behind us right now, obviously. And something new just came up with me being suspended the first six games. But you know, I'm a man. I have to lick my wounds and be able to move forward from all of this. I have moved forward, and I'm ready to see what the future has for me."
Follow @PFRumors