Following an uncharacteristically-poor performance in Week 1, Colts kicker Adam Vinatieri struggled again during today's win over the Titans. Following the game, owner Jim Irsay acknowledged that the team's struggles at kicker are a concern.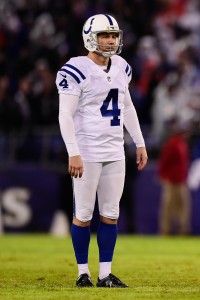 "Breaks my heart to see it because I know how hard (Vinatieri) works," Irsay said (via ESPN's Mike Wells). "Of course it's a concern. I can't lie to you guys. Anyone would tell you it's a concern. Adam, coach (Frank Reich), (general manager) Chris (Ballard), me. Yeah, I mean, in this league, it's professional football. We all have to produce.
"The expectation is to win when you're a professional. So we have to figure out where we're at there and see what coach and Chris think is the best direction. And I know Adam will be the most self-honest person of all, so we'll see where we're at."
Meanwhile, while Vinatieri didn't say much following the victory, he did indicate that we'd hear from him on Monday. When told by reporters that tomorrow was a day off, the veteran had the same response: "Yeah, you will (hear from me)."
We're all familiar with the future Hall of Famer's accolades. Vinatieri made a name for himself by converting game-winning field goals during Super Bowls XXXVI and XXXVIII, and he's earned another two rings during his career with the Patriots and Colts. He currently holds NFL records for most points scored (2,600) and most field goals made (582). He also holds the distinction of being the oldest active NFL player at 46 years old.
While Vinatieri's field goal percentage dropped each year between 2015 and 2018, he was still more-than-reliable. However, the 24-year veteran has struggled mightily in 2019. He missed a pair of field goal attempts and one extra point attempt in Week 1, and he followed that up by missing a pair of extra point attempts today.
While Reich seemed to place Vinatieri's struggles on the "snap and hold," there's no denying that the veteran may simply be ready to call it a career.
Photo courtesy of USA Today Sports Images.
Follow @PFRumors