The Panthers checked off a key offseason task by signing Shaq Thompson to a four-year extension, and they have identified James Bradberry as another homegrown player they would like to retain.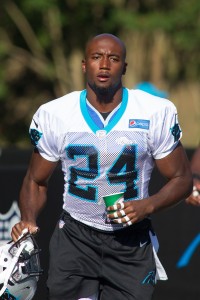 Bradberry's agent and the Panthers have discussed an extension, but the parties have not agreed on terms yet. The fourth-year cornerback will be a free agent at season's end. With Thompson locked down, Bradberry rates as the Panthers' top UFA-to-be.
"When (my agent) told me they had talked and we hadn't quite reached a point of agreement, I pretty much understood I might be heading to free agency or I might get franchise-tagged," Bradberry said, via Joseph Person of The Athletic (subscription required). "He just told me, 'Just be patient.' We've got three games left and you never know what the owner might decide."
Thompson agreed on a deal that will make him a top-10 wage-earner at his position; it will take such a commitment to keep Bradberry off the market. The Panthers use Bradberry as their top corner, and given the position's stagnant market, the Division I-FCS success story is understandably being patient for a quality deal here. Ex-Panther Josh Norman's $15MM-AAV contract — agreed to in the spring of 2016 — still stands as the league's second-highest cornerback salary.
Bradberry also confirmed he will not hold out, if the Panthers decide to use the franchise tag on him. The cornerback tag is expected to be worth around $16.5MM, Joel Corry of CBS Sports writes, and a scenario where the Panthers use the tag in this case would not bother Bradberry.
"That's a lot of money for one year. I understand Le'Veon Bell, why he sat out. I understand why guys don't wanna sign it," Bradberry said. "But I don't think I'm at liberty to sit out. I don't really want to sit out and then have the (potential) lockout year. That'd be two years I'd have to sit out."
Photo courtesy of USA Today Sports Images.
Follow @PFRumors