Contractually, the Eagles seem to have little choice but to keep Alshon Jeffery for the 2020 season. However, a clause in his deal could allow them an escape hatch, as Jeff McLane of the Philadelphia Inquirer writes.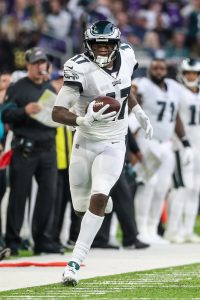 Last season, a WIP reporter alleged that Jeffery was the anonymous team source behind unflattering comments about quarterback Carson Wentz. Jeffery's deal, like many, includes default language against "any public comment that criticizes the team, teammates, coaches, ownership, etc." The Eagles, meanwhile, retain the right to put that into motion if the team "reasonably determines, in its sole discretion" that a default is called for.
It would be a messy war to wage, but the Eagles engaged in a similar battle with Terrell Owens after he slammed Donovan McNabb. The big difference, of course, is that Owens was on-the-record and Jeffery been largely complimentary of Wentz publicly.
Such a move seems unlikely, but it's worth keeping in mind as the Eagles try to improve at wide receiver this offseason. As it stands, they're bound to just about every WR in the group, save for pending free agent Nelson Agholor.
Jeffery's four-year, $72MM deal gave him a whopping guarantee of nearly $55MM. And, thanks to a restructure, releasing him now would cost the club more than $26MM. An outright release without defaulting his deal is simply off the table. Trading Jeffery, in theory, could be more palatable – it'd shave $10MM off of the cap hit, though teams probably aren't lining up for him at this stage.
The most likely outcome is that the Eagles will bring back Jeffery with the hope that he's happy and healthy. They'll also have to hope that he finds the same kind of chemistry with Wentz that he had with Nick Foles.
Photo courtesy of USA Today Sports Images.
Follow @PFRumors