The Seahawks aren't ruling out another year of Beast Mode. Head coach Pete Carroll says he'd be open to having running back Marshawn Lynch back in the fold, even though it likely wouldn't be for a full season.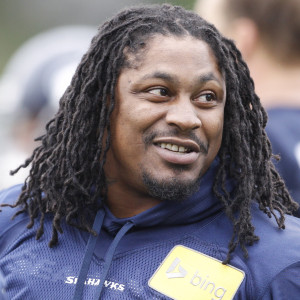 "We'll see. Never say never," Carroll said (via Gregg Bell of The News Tribune). "I'm not going to rush him back to offseason, that's for sure. That's never been one of his strengths."
Lynch, 34 in April, joined the Seahawks for the club's final regular season game and their pair of postseason games. Carroll said Lynch did an "extraordinary job" in the limited run, which included four rushing touchdowns.
"Marshawn made an exceptional impression coming back, starting with me," Carroll said. "He worked very hard to get to the point to have the chance to be available, how he got to that spot that maybe he could play later in the season. He reported in good shape. He performed well…Did a great job for us just picking things up and showing how, what it takes to be available and all that. He was gracious and great to all the young guys. It didn't matter how old you were, he was just great to everybody."
Lynch's yards-per-carry average didn't jump off of the page, but he got the job done for them in the red zone. All things considered, it was a solid showing for a player who had spent more than a year away from the game. After the rash of injuries that sidelined Chris Carson, Rashaad Penny, and C.J. Prosise, it only makes sense for Seattle to keep Lynch on speed-dial.
Follow @PFRumors