If he were to hit the open market, Buccaneers pass rusher Shaq Barrett would be one of the most sought-after players in the league. However, Tampa head coach Bruce Arians recently indicated the team would not let Barrett get away, and Barrett himself expressed his desire to remain with the Bucs.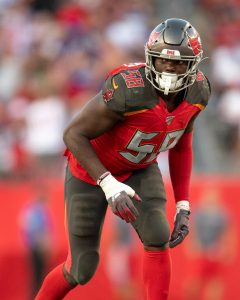 In fact, Barrett may be willing to give Tampa a hometown discount in order to facilitate a deal. In a recent interview with SiriusXM Mad Dog Radio (via Mike Florio of Pro Football Talk), Barrett said, "If [other teams] offer me more than Tampa…I'm going to look at what their taxes is compared to Tampa's. Because I ain't going to live in L.A. and get taxed crazy. I'm not going to take drastically less but I am open to doing what I think is best for my career, and I think that would be staying in Tampa."
Barrett understandably likes the fact that Florida does not have a state income tax, and he talked about how much he dislikes moving, which could also play a role in his decision. And though the Bucs have enough cap space to accommodate him while addressing other areas of need, they surely wouldn't complain if Barrett gives them a discount.
Obviously, Tampa would like to get something done before other teams get a chance to whisper sweet nothings in Barrett's ear. His 2019 effort with the Bucs was a stunning improvement over his output during his five years in Denver, but he did show enough flashes with the Broncos to suggest that his performance last season was not a fluke, so he stands to get paid like a premium pass rusher.
Last season, which culminated with Barrett's first Pro Bowl bid, the 27-year-old posted a league-leading 19.5 sacks to go along with an interception and six forced fumbles.
Photo courtesy of USA Today Sports Images.
Follow @PFRumors