When we learned yesterday of tight end David Njoku's trade request, it was assumed that the former first-rounder was displeased with his demotion on the depth chart following the Austin Hooper signing. While that could certainly be the case, ESPN's Jeremy Fowler tweets that the Browns front office has been aware of Njoku's unhappiness for "about a year."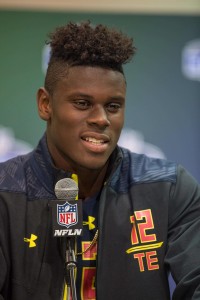 Further, while yesterday's reports indicated that the Browns would be seeking a first-rounder for Njoku, "sources with other teams" believe that's an unrealistic asking price. Rather, those sources opine that Njoku would be worth a fourth- or fifth-round draft pick. Meanwhile, Jason Fitzgerald of OverTheCap.com points to the Hayden Hurst trade, where the Ravens received a second-round pick in exchange for the former first-round tight end. Considering Hurst had two years remaining and an option year, Fitzgerald pegs Njoku's trade value at around a third-round pick.
The Browns already exercised Njoku's fifth-year option for 2021, but that's guaranteed for injury only. In other words, there's a chance that the tight end finds himself hitting free agency following the 2020 campaign, and Cleveland's added depth at tight end could diminish his value. The Browns signed Hooper to a four-year, $42MM deal this offseason, and they also selected Harrison Bryant in the fourth round.
Of course, there's still optimism that Njoku could contribute this season. As Nate Ulrich of the Beacon Journal notes, the Browns have continually praised the 23-year-old throughout the offseason, and they've hinted that he'll still have a major role in the offense. Ulrich also observes that new Browns head coach (and former Vikings offensive coordinator) Kevin Stefanski had a pair of tight ends on the field 57-percent of the time during his stint in Minnesota.
Njoku's unique size and speed made him first-round pick in 2017, and he started to live up to that promise in 2018 when he started 14 games and caught 56 passes for 639 yards and four TDs. Unfortunately, a wrist injury wiped out most of his 2019 season. As he gets closer to free agency, the tight end decided to switch up his representation; we learned yesterday that Njoku had hired Drew Rosenhaus as his agent.
Follow @PFRumors