The Cardinals hope to retain Patrick Peterson, owner Michael Bidwill says (via the team website). The cornerback has spent his entire ten-year career in Arizona, but he'll be eligible for free agency in March.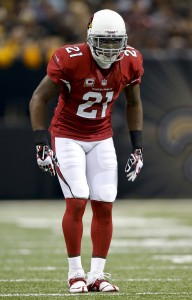 "Pat and I have had a number of conversations. I've been very clear that we want to have him back," Bidwill said. "We all know that the salary cap is going to go down. I think a lot of these veteran players need to work with us, and they need to understand that while their salary expectations and their compensation expectations may be one thing, we've got to look at it from the reality that the salary cap is going down. It's our hope we can work something out that works for both the club and for Pat to keep him in a Cardinals uniform. He's been an important part of what we've done in the past, and hope to keep him in the future."
Bidwill's comments regarding the salary cap decrease are accurate, though the drop might not be all that severe. Earlier today, we learned that the league's salary cap floor will be set at $180MM, rather than $175MM. That bodes well for the max, which was once projected to be $180MM-$181MM for 2021.
Peterson, meanwhile, is one of the most accomplished defenders in franchise history. Of courses, things have been bumpy in recent years. P2's performance has slipped a bit over the past two seasons, and his 2019 PED suspension didn't help his case much. Coincidentally, Peterson backed down from his trade demand right around the same time. In 2020, Pro Football Focus ranked Peterson as just the No. 83 CB in the NFL. In 2018, he placed fifth.
The Cardinals have a leg up on other teams, with Kyler Murray having multiple years to go on his rookie deal. However, they'll have to balance their affinity for Peterson against other needs. They'll also look to re-sign Larry Fitzgerald, if he ultimately decides to return for another season.
Follow @PFRumors