The Falcons have made some changes to their staff, but new GM Terry Fontenot will also keep some big names from the previous regime on the payroll going forward.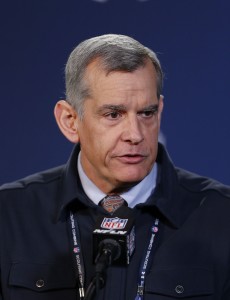 Former GMs Phil Emery and Ruston Webster will remain with the Falcons, with the team shifting the pair from scouting roles to spots as senior personnel executives. Emery, the Bears' GM from 2012-14, and Webster, the Titans' GM from 2012-15, joined Thomas Dimitroff's staff in 2016 as scouts. Emery has worked in the NFL since 1998; Webster's tenure in the league dates back to 1988.
Additionally, the Falcons are promoting Michael Ross and Tokunbo Abanikanda from area scouts to the national level. Ross has been with the Falcons since Dimitroff's second year, rising up from the entry level to his current national scout post. Abanikanda, a 10-year Falcons staffer, has done the same since joining the team. Emery and Webster worked as national scouts during Dimitroff's final five seasons.
Fontenot will also keep other Dimitroff-era staffers, though some will see their roles reduced. Former Chiefs assistant GM Joel Collier will move from national scout to area scout, while Shepley Heard will go from director of pro personnel down to area scout. Heard has been with the Falcons since 2005. Additionally, Benjamin Martinez will follow Fontenot over from New Orleans. A 12-year Saints staffer who worked as a video assistant for the past four years, Martinez will join the Falcons as a BLESTO scout. BLESTO scouts often do advance work on future draft classes.
Photo courtesy of USA Today Sports Images.
Follow @PFRumors