The trial between several of the children of late Broncos owner Pat Bowlen's is off, and it could ultimately result in a sale of the organization. The trial that was meant to clarify and finalize Bowlen's estate (including future ownership of the Broncos ownership) has been vacated, according to Kevin Vaughan of 9News in Denver (via Twitter). Colleague Mike Klis confirmed the news.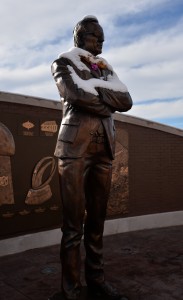 To quickly review: following Pat Bowlen's death, it was widely assumed that Brittany Bowlen would be the one of Bowlen's seven children to take over ownership of the franchise. Brittany Bowlen seemingly had the support of the Pat Bowlen Trust, a group that includes Broncos CEO Joe Ellis. However, two of Pat's daughters from an earlier marriage, Amie Klemmer and Beth Bowlen Wallace, filed a lawsuit challenging their father's mental capacity to approve the Trust. The lawsuit specifically names Ellis, Broncos executive Rich Slivka, and attorney Mary Kelly as members of the Trust who influenced Pat Bowlen's decision.
That brings us to the upcoming trial (set to begin in mid-July), which is now on pause. The decision to vacate the trial came after both sides filed a joint motion, per Vaughan, although there hasn't been any word on a potential settlement. The decision to "stay proceedings" means the two sides have agreed to indefinitely stop the trial, while the decision to "vacate trial" effectively clears the schedules for the courts. In other words, while a settlement hasn't been reported, a settlement was likely been reached.
How does this connect to the future of Broncos ownership? While the two sides will likely agree on a settlement, there's a chance they still don't see eye-to-eye when it comes to the organization, and a logical route would be to put the Broncos up for sale.Ellis had previously hinted that this was a potential path if the children couldn't agree on the Trust.
"[I]t is an option, and we've told the beneficiaries that, because if Brittany [Bowlen] were to succeed and take over for her father, everybody else is going to have to sign off on that, most likely," Ellis said (via Troy Renck of TheDenverChannel.com). "That may not be a requirement, but it's going to be necessary, I think, moving forward from a trustee viewpoint. That's why a sale remains a possibility I think — given the circumstances we're in."
Ryan O'Halloran of the Denver Post notes (on Twitter) that Beth Bowlen Wallace previously released a statement that said she and her sister would "walk away from trial if Broncos were put up for sale," and the writer believes that's what this current development will entail. Meanwhile, Mike Florio of ProFootballTalk.com tweets that if the Broncos indeed hit the market (or have already hit the market), rival owners expect the organization could be worth between $8B and $10B.
Photo courtesy of USA Today Sports Images.
Follow @PFRumors