Baltimore was able to clinch a playoff berth today following their win over the Falcons, combined with a loss by the Patriots, but many are focused more on the team's long-term future. More specifically, many are still glued to the ever-evolving situation concerning quarterback Lamar Jackson, who is currently playing out the final year of his rookie contract.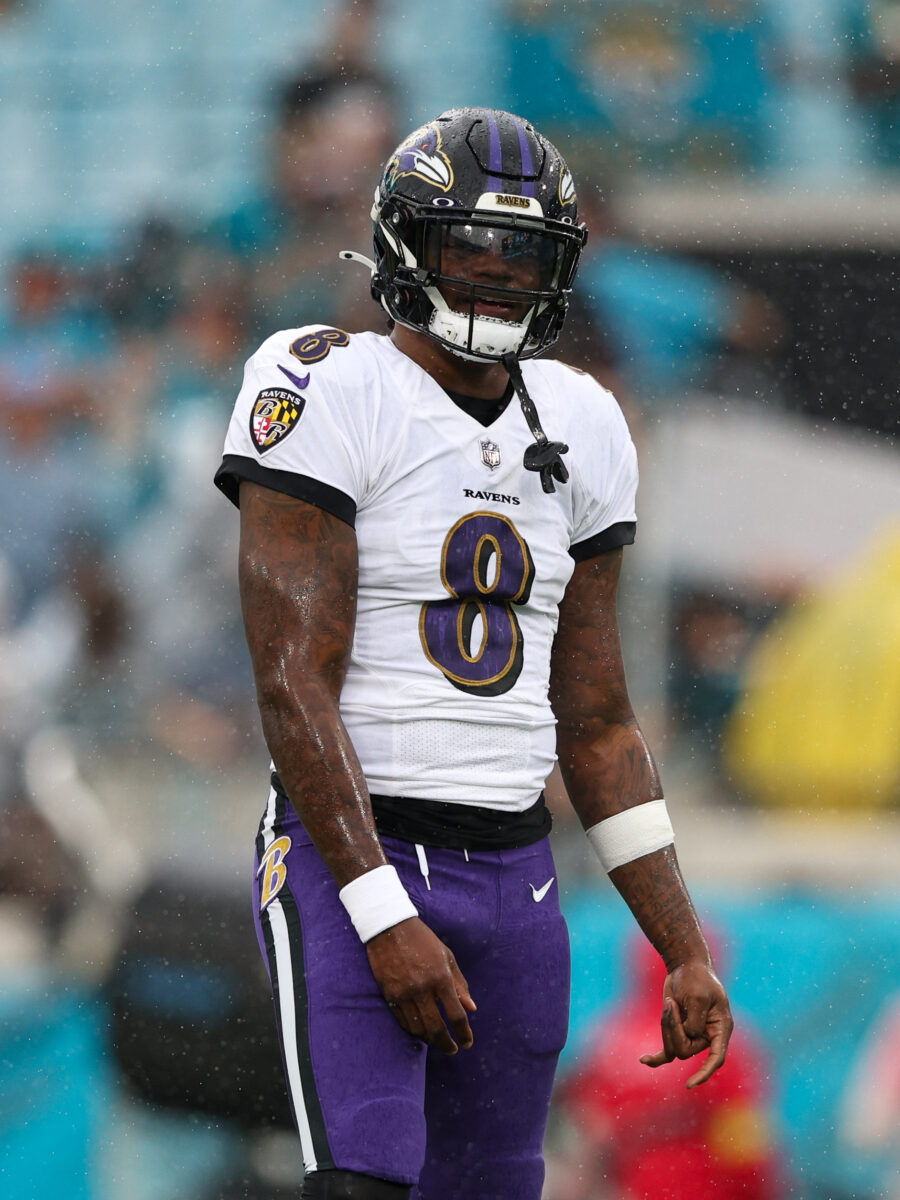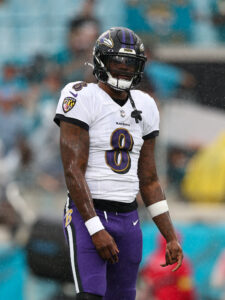 Early in the season, it appeared that Jackson was on his way to outpacing the numbers from his 2019 MVP season. Impressive offensive performances against the Jets, Dolphins, and Patriots had people wondering just how high Jackson was going to push his value, as he and the Ravens are set to continue negotiations for a potential new deal at the end of the season.
Over the next several weeks, Jackson would continue his high level of play, but the lack of offensive talent around him would hamper the team's offensive success. In the running game, Jackson was forced to work the majority of games without his dependable 1-2 punch at running back. Through the 12 games Jackson would start, starting running back J.K. Dobbins and No. 2 back Gus Edwards would each miss eight games, only appearing in four apiece, none of which were together.
In the passing game, the Ravens have continually failed to surround Jackson with a legitimate array of pass catchers. Since being drafted, Jackson has depended on favorite targets like tight end Mark Andrews and wide receivers Marquise Brown and Rashod Bateman. Brown was traded away during the first round of last year's draft while Andrews and Bateman have both been nagged by injuries this year. Besides those three, Jackson has been asked to rely on such receivers as Demarcus Robinson, Devin Duvernay, James Proche, DeSean Jackson, Sammy Watkins, Willie Snead, Seth Roberts, and Miles Boykin. One could argue that the best receiver group Jackson has ever gotten to work with was the group assembled for Joe Flacco in Jackson's rookie season that was composed of Snead, Michael Crabtree, and John Brown.
Still, despite the lack of surrounding talent, Jackson has led the team to a franchise-best 14-2 record and five playoff berths while also winning an MVP-award for himself. He has certainly proven time and again in Baltimore that he is the team's most valuable player by far. This was demonstrated most clearly last season when Jackson led the Ravens to a 7-4 start for games in which he played before suffering what would be a season-ending ankle injury. The Ravens would lose the game in which Jackson was injured and the following four games to end the year to finish 8-9 and miss the playoffs for the first time since Jackson was drafted.
This season was looking eerily similar to last year when Jackson went down for the second time in two seasons with an injury suffered in the pocket (not on the run). Luckily for Baltimore, the Ravens have been able turn three of the four games that Jackson has missed the majority of into wins. Regardless, the offense has been anemic without Jackson, averaging 11.5 points in those four games. While subbing in for Jackson, backups Tyler Huntley and Anthony Brown have been efficient, completing two-thirds of their pass attempts, while also being utterly unexciting. Together they've averaged 130.5 passing yards per game, throwing one touchdown to two interceptions, adding 27 rushing yards per game and one rushing score.
Baltimore's offensive struggles without Jackson are apparent. And, while many initially thought that a second extended absence due to injury would hurt Jackson's value in contract negotiations, it may have done just the opposite. Jackson's absence has once again proven just how crucial he is to Baltimore's success and just how doomed the franchise would be without him.
Just how much will Baltimore be willing to shell out to maintain the success that Jackson brings to the city? The price point for the deal stands at about $50MM, according to Jason La Canfora of The Washington Post. Packers quarterback Aaron Rodgers is currently the only passer with a contract that averages over $50MM per year. With quarterback contract rates rising each year, it makes complete sense for the average for an elite quarterback to be inching up towards the $50MM mark. The other sticking point in the deal is that Jackson will likely be seeking a record amount in guarantees, as well, following the astronomical example Cleveland set when signing Deshaun Watson.
Ravens owner Steve Bisciotti has continuously balked at the idea of such a deal. He essentially set the requirements for such a lucrative contract to be a Super Bowl victory. Jackson, though, has shown MVP talent and will play next season at the age of 26. With a full season surrounded by a healthy running backs group and more than one legitimate receiving option, there may be no limit to what Jackson can accomplish. Not to mention that Jackson is still set to return this season. Although the Ravens have clinched a playoff berth, winning their final two games versus Pittsburgh and at Cincinnati will clinch the AFC North title for Baltimore, no matter what Cincinnati does next week against the Bills.
La Canfora has his doubts about the two sides being able to reach an agreement. The plan likely remains for Baltimore to place an exclusive rights franchise tag on Jackson in the offseason. La Canfora predicts that, if the two can't come to a long-term deal by April, trade rumors will begin to circulate as the draft inches closer.
It seems like a bit of an extreme measure to take for two parties that sounded like amicable negotiations could lead to a few more years of tentative agreements before landing on the final big contract. If it starts becoming more and more apparent that the union is not made to last, though, it would likely benefit Baltimore to get what value they can out of Jackson's incredible talent before letting him walk away for nothing.
Follow @PFRumors