Nasir Adderley's rookie contract expired yesterday, leaving him eligible to sign with any team to begin the next chapter of his career. Instead, the 25-year-old safety announced (via Instagram) on Thursday that he is retiring from the NFL.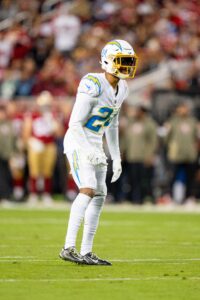 Adderley joined the Chargers as second-round pick in 2019. He was limited by injury to just four games played as a rookie, but remained mostly healthy beyond that point. He was a full-time starter over the past three regular seasons, though he did not start Los Angeles' playoff loss to the Jaguars. Adderley appeared in a total of 51 games in the NFL.
"After a period of self-reflection, I have decided it's time for me to walk away from the game of football," his announcements reads. "Over the past couple of years I have denied this realization, but I'm finally going to put myself first for once. My health is above everything.
"It has been a dream come true to play in the NFL and have the opportunity to play for the Chargers organization. I believe I have yet to scratch the surface of the player I could be, but if it's at the expense of my peace of mind then it's no longer for me."
The Delaware product racked up 232 tackles during his time with the Chargers, adding three interceptions and 12 pass deflections. His coverage statistics improved over each of the past three years, suggesting he could have remained an effective member of Los Angeles' (or another team's) secondary for at least the short-term future. Instead, he will now positively reflect on his relatively brief NFL tenure.
"It's been a joy to create such amazing relationships," he wrote in his statement. "Words can't express how much love and gratitude I have for you all."
Follow @PFRumors