Remember Robert Meachem? The wide receiver has been out of football since 2014, but he is hoping to make a return to the NFL in 2017. Today, he headlines a small group of former Tennessee graduates at the program's Pro Day, competing alongside this year's outgoing class. Of course, this is somewhat unprecedented as Meachem is entering his age-33 season.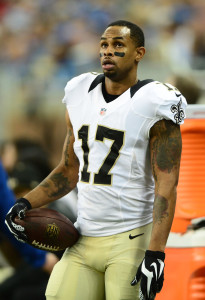 We haven't heard Meachem's name since June of last year when he auditioned for the Saints. He spent the bulk of his career in New Orleans and his two stints were broken up by just one season spent with the Chargers. However, the Saints passed on signing him. Since then, Meachem's personal life has taken some unfortunate turns. He spent some time in jail this year after he failed to make child support and alimony payments. An NFL deal would certainly help his financial situation, but it's not clear if he has much left to offer at this point.
In 2014, his last NFL season, he had just seven catches for 114 yards in eleven games. His last truly productive season came all the way back in 2011 when he had 40 catches for 620 yards and six scores.
Wide receivers Pig Howard and Jonathan Johnson and defensive back LaDarrell McNeil will also be on the field. Defensive tackle Danny O'Brien, who was kicked off the team last October, will also show his stuff.
Photo courtesy of USA Today Sports Images.