Titans owner Amy Adams Strunk insisted Tuesday that the franchise isn't for sale, but her desire to keep the team could become irrelevant, writes Mike Florio of Pro Football Talk.
When Strunk's father, franchise founder Bud Adams, died in 2013, he left equal parts of the franchise to Strunk and two other heirs. The Titans are devoid of a true controlling owner as a result, and the NFL is going to force the franchise to rectify that at some point, according to Florio, who adds that an eventual sale is possible. The league has already penalized Strunk with a six-figure fine this year on account of the Titans' failure to comply with its ownership rules.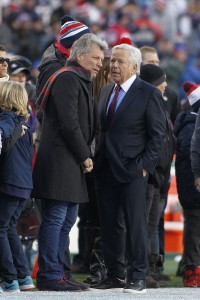 In the event the Titans do go on the block, rock star Jon Bon Jovi would reportedly be a candidate to serve as part of a new ownership group. Bon Jovi refuted that possibility Wednesday, however.
"Let me dispel the rumors right now," he told John Carucci of the Associated Press. "I wake up to these headlines with my name on them and they're just not true. I want to make it perfectly clear that the team is not for sale, nor has it ever been, and I respect and admire (late franchise founder) Bud Adams' legacy. End of story, I wish them all the success in the world."
While Bon Jovi claims the Titans don't interest him, Florio expresses skepticism, and Carucci writes that the 54-year-old does want to own an NFL team. That nearly came to fruition when a group including Bon Jovi bid $1 billion on the then-rudderless Bills in 2014, but they fell short of Terry Pegula's winning offer of $1.4 billion.
"I love the NFL, and I did in fact try to buy the Buffalo Bills, but this has nothing to do with that. All I'm doing – I'm in the music business. End of story," Bon Jovi declared.
Photo courtesy of USA Today Sports Images.