Rock star Jon Bon Jovi is reportedly interested in purchasing the Titans. There's just one problem: Titans controlling owner Amy Adams Strunk doesn't plan to sell the franchise, she told Tom Pelissero of USA Today.
"The team is not for sale," she said. "I don't know how many different ways to say it. Haven't talked to Bon Jovi or anybody else for that matter, and it's not for sale."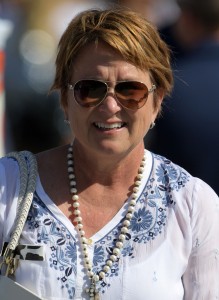 The 54-year-old Bon Jovi previously showed serious interest in buying the Bills in the wake of founder Ralph Wilson's death in 2014. A group including Bon Jovi reportedly offered more than $1 billion for the Bills when the club was on the market, but they fell short of current owner Terry Pegula's $1.4 billion winning bid.
Strunk took the Titans' reins the next year – in 2015. That was two years after her father, franchise founder Bud Adams, died.
"It's part of our heritage – my dad's legacy. We're not going anywhere," she declared.
Adams' heirs, including Strunk, have come under fire from the NFL because, in the league's opinion, the organization still hasn't put together a sufficient succession plan since Adams' death. The league has already hit Strunk with a six-figure fine this year as a result. More punishment is possible in the future if the Titans don't comply with the league, but Strunk isn't worried.
"It's going to get worked out," she told Pelissero.
Titans president and CEO Steve Underwood added that the franchise has "had a conversation going on with the league now for over two years, and we expect to continue that discussion."
Strunk lives in Houston, the team's former home, but she spends two weeks a month in Nashville and insists she's "involved."
Photo courtesy of USA Today Sports Images.
Follow @PFRumors