WEDNESDAY, 8:23pm: Mike Florio of Pro Football Talk has the full breakdown of Butler's deal. Per a league source, Butler's deal covers seven years with a total potential value of $51.8MM with only $11.15MM guaranteed at signing. After three seasons, the Chargers hold a $12MM option bonus.
If the Chargers don't trigger that bonus, they can cut bait after paying $15.15MM over two years between the $750K base salary for 2014 and a non-guaranteed base salary of $3.25MM for 2015. Alternatively, they can pay another $4.65MM in 2016 and extend it to a three-year, $19.8MM contract. If the option bonus is paid, the final four years kick in, at base salaries of $4MM in 2017, $4.65MM in 2018, $5.35MM in 2019, and $6MM in 2020.
Florio writes that the cap numbers are as follows: $2.98MM in 2014, $5.48MM in 2015, $9.28MM in 2016, $8.63MM in 2017, $9.28MM in 2018, and $7.75MM in 2020.
MONDAY, 9:55am: Butler's contract with the Chargers is a multi-tiered deal, according to Ian Rapoport of NFL.com (via Twitter). According to Rapoport, the first three years of the pact are worth just under $20MM, and then the team will have an option to keep the linebacker for four additional years at between $8MM and $9.5MM per year. The first segment of the deal is currently guaranteed for about $12MM, while the second segment would be guaranteed for about $15MM if the team exercises its option, Rapoport adds in a second tweet.
FRIDAY, 1:51pm: Prospective free agent Donald Butler will stay with the Chargers rather than hitting the open market, and it was Butler himself who broke the story. The San Diego linebacker has announced the new agreement on Twitter: "Feeling blessed! Y'all heard it here first! Deal is done!! SD I aint going no where!! Too excited!!" The Chargers have since confirmed that the two sides have agreed to terms (Twitter link).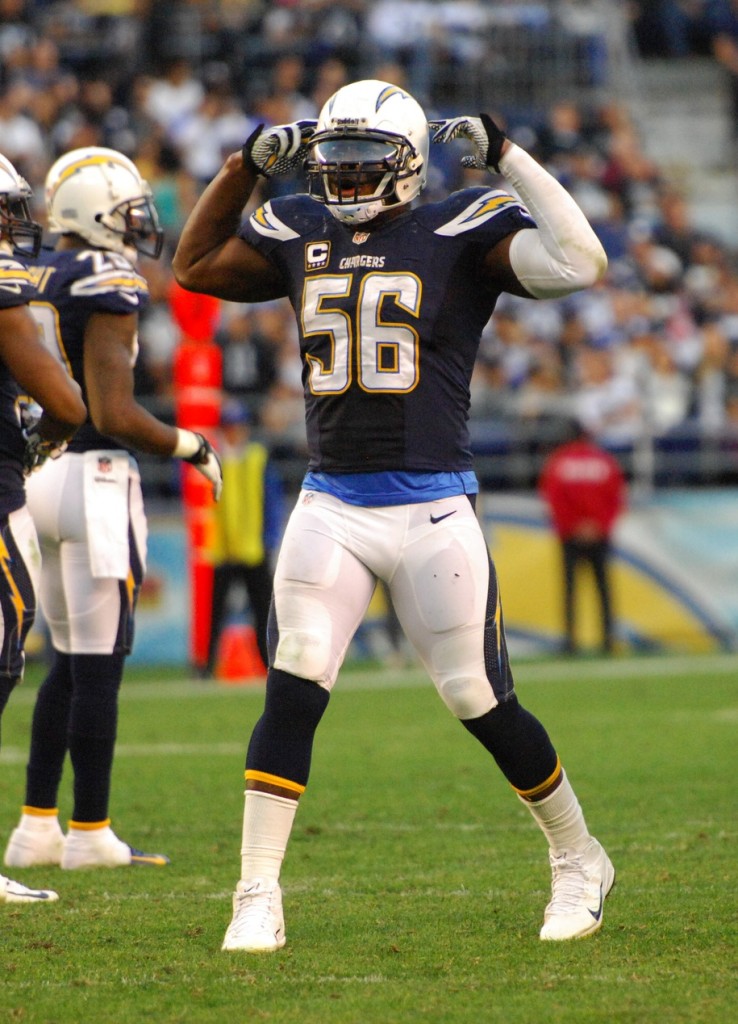 Butler, who is coming off the final year of his rookie contract, ranked as one of the top inside linebackers expected to hit free agency this offseason, though that was based more on his age (25) and previous performance than his 2013 showing. Plagued by injuries and inconsistent play, Butler ranked 45th among 55 qualified inside linebackers in '13, according to Pro Football Focus' metrics (subscription required), recording negative grades as a pass-rusher, as a run-stopper, and in coverage.
Still, given his age and potential, Butler was a top priority for the Chargers heading into free agency, with the franchise tag considered an outside possibility. Terms of the deal aren't yet known, but Butler figures to be in line for a nice raise on the $1.323MM base salary he earned in 2013, and I'd expect the contract to be for at least three or four years.
With Butler off the board, teams in search of an inside linebacker this offseason could turn to alternatives like Karlos Dansby, Brandon Spikes, and Daryl Smith, if they hit the open market. Another intriguing option, D'Qwell Jackson, has already become an unrestricted free agent, and is drawing interest from several teams, including the Titans, Broncos, Vikings, Redskins, and Cardinals.
Photo courtesy of USA Today Sports Images.
Follow @PFRumors