Josh Gordon's one-year suspension has been upheld and his appeal has been denied, reports Mike Garafolo of FOX Sports (via Twitter). The Browns wideout released the following statement through the NFLPA shortly after the news broke: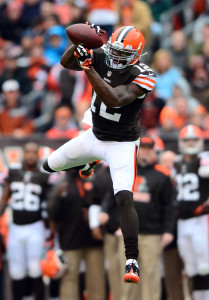 "I'd like to apologize to my teammates, coaches, the Cleveland Browns organization and our fans. I am very disappointed that the NFL and its hearing office didn't exercise better discretion and judgment in my case. I would like to sincerely thank the people who have been incredibly supportive of me during this challenging time, including my family, my agent, my union, my legal team, and the Cleveland Browns staff."
Mary Kay Cabot of the Cleveland Plain Dealer and ESPN.com's Adam Schefter both reported earlier this morning (Twitter links) that an announcement was expected on Gordon by the end of the day. According to Schefter, Browns sources were "baffled" over why the ruling had taken so long. Back on August 4, we heard that an announcement on Gordon's appeal was expected in one to three weeks, but it ended up taking 23 days.
Now that the year-long penalty has been upheld, it's expected to run through 2015's training camp and most of the preseason as well, which could have been avoided if a decision had been handed down earlier. However, as Nate Ulrich of the Akron Beacon Journal tweets, the NFL's statement on the ruling reads, in part: "Gordon's eligibility for reinstatement will be determined following the 2014 season." That suggests the league may decide to reinstate Gordon in advance of next year's camp, depending on his behavior. At the very least though, he'll miss the entire 2014 season.
The NFL's leading receiver in 2013, Gordon will serve his suspension as a result of repeated violations of the league's substance-abuse policy. During his appeal hearing, his lawyers argued that his positive test was a result of second-hand smoke, and called into question the results of his test, in which one urine sample passed and one failed by a small margin.
Because the decision on the appeal and the suspension was left to hearing officer Harold Henderson, the decision was an all-or-nothing proposition. Had Henderson decided not to let the penalty stand, he would have had to wipe out Gordon's ban entirely — a suspension somewhere in between those two extremes would have had to be negotiated by the NFL and the NFLPA, and there was no indication that the two sides entered into any real talks about that possibility.
Despite missing the first two games of the 2013 season due to another drug-related suspension, Gordon caught 87 passes for a staggering 1,646 yards, and added nine touchdowns. The 23-year-old was named as one of the two All-Pro wide receivers, alongside Lions superstar Calvin Johnson. With the standout pass catcher no longer in the mix for 2014, Brian Hoyer – and perhaps Johnny Manziel – will have a decidedly less impressive receiving corps with which to work, one that includes free agent signees Miles Austin, Andrew Hawkins, and Nate Burleson.
Photo courtesy of USA Today Sports Images.
Follow @PFRumors