1:21pm: Pederson made it official during his introductory press conference this afternoon, announcing that Schwartz will be his defensive coordinator for the 2016 season (Twitter link via team).
12:36pm: After interviewing him today, the Eagles have reached an agreement with Jim Schwartz, who will become the team's new defensive coordinator, reports Don Banks of SI.com (Twitter links). According to Banks, the move isn't official yet, but the two sides have a deal in place.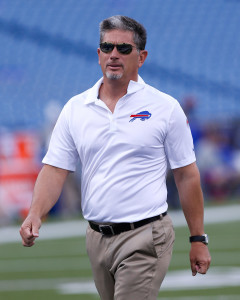 [RELATED: Eagles hire Doug Pederson as head coach]
Schwartz, who began his NFL career as a personnel scout on Bill Belichick's staff in Cleveland in the mid-1990s, served as the Titans' defensive coordinator from 2001 to 2008. After spending several seasons as the Lions' head coach, Schwartz returned to a DC role in Buffalo in 2014, and had an excellent season.
Per Football Outsiders, Schwartz's Bills defense ranked second in the NFL in DVOA in 2014. However, when Doug Marrone opted out of his contract as the team's head coach, and Rex Ryan entered the picture, Ryan decided to bring in his own defensive coordinator. Under Ryan and Dennis Thurman, the Bills slipped to 24th in defensive DVOA in 2015.
With Chip Kelly no longer leading the Eagles, the team already had been expected to undergo a number of personnel changes on both sides of the ball this offseason, and Schwartz's arrival will likely ensure that those changes are made on defense. After running a 3-4 scheme under Billy Davis for the last few seasons, Philadelphia figures to shift to a 4-3 look under Schwartz, who often employs a "wide nine" alignment.
As Albert Breer of the NFL Network notes (via Twitter), one notable Eagles player who could benefit significantly from the scheme change is Fletcher Cox, who should thrive as a three-technique in 2016, which is a contract year for him. In general, the Eagles defense shouldn't be worked quite so hard in '16, with new head coach Doug Pederson replacing Kelly — Kelly's Eagles ranked dead last in the NFL in each of the last three seasons in terms of time of possession, meaning the defense spent a ton of time on the field.
[RELATED: PFR's 2016 offensive/defensive coordinator tracker]
With Schwartz now in line to take over the defensive coordinator job in Philadelphia, Davis figures to look for work elsewhere — perhaps on Kelly's staff in San Francisco. Meanwhile, Mike Pettine had been cited as a candidate for the Eagles' opening, but if he hopes to land a DC job in 2016, it'll have to happen somewhere else. Pettine's old team, the Browns, was one of the other teams that expressed interest in Schwartz as a defensive coordinator — the Jaguars also interviewed him.
Photo courtesy of USA Today Sports Images.
Follow @PFRumors