The Panthers are one victory away from their first Super Bowl appearance since 2003. A lot of this season's success can be attributed to general manager Dave Gettleman. The team has made the playoffs in each of his first three seasons with the organization, and the executive's shrewd offseason moves (including cutting bait with embattled star Greg Hardy) helped the team to a 15-1 regular season record.
Gettleman recently sat down with Alex Marvez of Fox Sports to discuss his team-building strategy, the logic behind his offseason moves, and the team's reaction to the Hardy fiasco. The whole interview is worth reading, but we've pulled out some of the notable quotes below…
On what the front office looks for in draftees/potential free agent targets:
"I've never been on a team that's had bad chemistry and gone to a Super Bowl.
"So we really look hard at character. We really do. It's a big part of our draft, a big part of bringing in free agents. The other thing we do is tell them, "This is who we are. If you don't want to be a part of this, it's OK. It doesn't make you a bad guy. It makes you a bad fit." The cards are on the table, and everybody knows what's expected. Everyone is held responsible."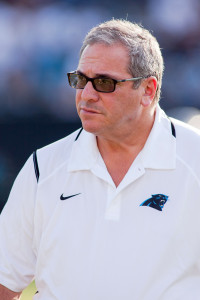 On the team's main priorities last offseason:
"One of the things was more speed on special teams. Our cover units hurt us last year. There were a whole bunch of things going on. We had a ton of injuries so Colin Jones, who's our ace on special teams, becomes our nickel (cornerback). Now he's playing 40 snaps a game, so you've got to pull him off a couple of teams (units). We lost (fullback) Mike Tolbert, who's a solid special teams guy, for eight games. There was a domino effect. So we went out and got (cornerback) Teddy Williams, who's a really core teams guy, we drafted (linebacker) David Mayo and incorporated Joe Webb more. That's one of the checked boxes.
"Another thing was the left tackle spot. It was an issue. Anybody who watched film could see that. We really investigated Michael (Oher). Believe me – he has not disappointed. That was big.
"I also wanted to get a young developmental tackle. We got him in Daryl (Williams). We wanted to get a young running back in here, and we got Cameron Artis-Payne. And on (special) teams, we got David Mayo and he's done a great job for us. We didn't reach for any of those guys.
I felt like we answered a lot of the questions we had. I answered the question before the season began that I thought this was the best roster we've had since I've been here."
On how the front office and team dealt with last season's Greg Hardy situation:
"It was an incredibly difficult time. We had reporters saying we didn't handle it well and we should have to go to (domestic violence) training and whatever. I made the statement (to the media) after the season was over that there is no one in this room who is qualified to deal with that issue. 
"It was tough on us; it was tough on the players. They didn't understand what was going on. It wasn't until his court case got pushed back from November to after the year that everybody said, "OK, he's not coming back (from the commissioner exempt list)." Guys started to say, 'If everybody does their job, we'll be OK."
Follow @PFRumors