On Tuesday, February 16th, NFL teams will be able to place franchise and transition tags on potential free agents for the first time. While the window for franchise tags opens at that point, most clubs won't actually tag any players right away.
As our list of important dates for the 2016 offseason shows, the deadline for teams to assign those franchise and transition tags comes two weeks later, on Tuesday, March 1st. Generally when it comes to NFL contract discussions, deadlines spur action, so teams will likely wait until closer to that March deadline to officially use franchise tags, once it becomes clear that they won't be able to strike a longer-term deal yet with their respective free-agents-to-be.
Even though the action might not heat up for a couple more weeks, it's worth taking a closer look at what to expect during 2016's franchise tag period. We don't know yet what the exact salary amounts for franchise tags will be, since the NFL has yet to announce the salary cap figure for the coming year. But back in November, former agent Joel Corry of CBSSports.com projected the 2016 franchise tag salaries, based on a presumed cap of $154MM. Here are the non-exclusive franchise tag amounts projected by Corry:
Quarterback: $19.748MM
Running back: $11.871MM
Wide receiver: $14.527MM
Tight end: $9.053MM
Offensive line: $13.678MM
Defensive end: $15.494MM
Defensive tackle: $13.368MM
Linebacker: $14.131MM
Cornerback: $13.838MM
Safety: $10.717MM
Punter/kicker: $4.534MM
Those numbers are unlikely to be 100% accurate, but the actual figures won't be drastically different, so we can use them as points of reference when considering which players are candidates to be franchised in 2016.
For a refresher on the characteristics of the exclusive and non-exclusive franchise tags, as well as the transition tag, be sure to check out PFR's glossary entry on the subject. Once you're up to speed, let's dive in and take a look at the most likely candidates to be tagged, along with several more outside possibilities….
Virtual locks:
Broncos pass rusher Von Miller was viewed as the top player in this year's group of potential free agents even before he terrorized Cam Newton in Santa Clara and earned Super Bowl MVP honors. Now, there's no doubt that Denver will do all it can to retain the former second overall pick. The only questions for Miller are whether he'll reach a long-term deal with the Broncos before the club needs to franchise him, and whether he'd get the exclusive or non-exclusive tag.
Panthers cornerback Josh Norman didn't make the same impact in Super Bowl 50 that Miller did, but Carolina still seems likely to franchise him to avoid letting him hit the open market. The franchise tag for cornerbacks is projected to be worth nearly $14MM, but the Panthers are in better cap shape than they have been in recent years, and can afford to take the hit.
Meanwhile, it has been a few years since a quarterback was franchised, but Washington signal-caller Kirk Cousins is a strong candidate. Reports have indicated the team won't let him get away, but the two sides apparently aren't close to a multiyear agreement, which makes the franchise tag the most logical option at this point.
Strong candidates:
A year or two ago, Bears receiver Alshon Jeffery would have been a no-brainer candidate for the franchise tag. However, 2015 was an up-and-down season for Jeffery, who only played in nine games due to injury issues. When he did play, Jeffery was excellent, averaging a career-high 89.7 yards per game, and few teams have more projected cap room this offseason than Chicago, so it seems unlikely that the team would let the wideout get away — especially given how weak the market for receivers is this year, outside of Jeffery.
The Jets are facing an interesting predicament on their defensive line with Damon Harrison and Muhammad Wilkerson eligible for free agency this winter. Harrison isn't a franchise tag candidate, and the Jets could conceivably re-sign him at a reasonable price, then move forward with a defensive line of Harrison, Sheldon Richardson, and Leonard Williams. However, letting an asset like Wilkerson get away for nothing isn't great business, which is why he has been viewed as an intriguing tag-and-trade candidate for New York.
Elsewhere in the AFC East, the Bills and Dolphins don't have a ton of cap flexibility, which could affect their decisions on offensive tackle Cordy Glenn and defensive end Olivier Vernon, respectively. There are ways for Buffalo and Miami to create the space necessary to tag their free-agents-to-be, but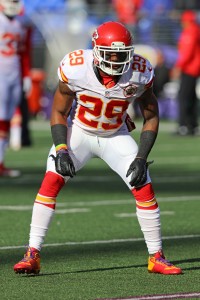 both teams already have plenty of highly-paid veterans on their books, so the decisions aren't no-brainers. I think Glenn, at least, is slightly more likely than not to be tagged, but both players could conceivably reach the open market.
Safety Eric Berry had a tremendous comeback season in 2015, and it would put something of a damper on that story for the Chiefs to allow him to sign elsewhere next month. A $10MM+ price tag for a safety isn't cheap, but it's a more affordable tag than most positions, so I think Kansas City will have to strongly consider using it if the team can't agree on a longer-term contract with Berry. As last year's negotiations with Justin Houston showed, the Chiefs aren't afraid to franchise a player, then work out a multiyear pact with him later in the offseason.
One position that's significantly cheaper than safety is kicker, where Corry projects a salary in the $4.5MM range. The Ravens and Justin Tucker have reportedly been negotiating a potential extension for over a year, but with the franchise deadline approaching, the team isn't afraid to use a tag on Tucker, if it comes to that.
Long shots:
The Jets want to extend Ryan Fitzpatrick and the Eagles have spoken highly of Sam Bradford, but it appears unlikely that either quarterback will get franchised. At least one report has indicated that the Eagles aren't expected to use their franchise tag to retain Bradford, and a price tag of nearly $20MM seems too high for Fitzpatrick.
Like Fitzpatrick, Buccaneers running back Doug Martin is a player whose team badly wants to re-sign him, but may view the franchise tag salary as too high. For running backs, the tag could be worth nearly $12MM, which would make Martin the second-highest-paid RB in the NFL – behind Adrian Peterson – by a comfortable margin. For a player who has been as inconsistent as Martin, that seems excessive.
A handful of offensive linemen are possible candidates to be tagged by their respective teams, including Kelechi Osemele (Ravens), Russell Okung (Seahawks), Mitchell Schwartz (Browns), Kelvin Beachum (Steelers), and Andre Smith (Bengals). However, I'd be a little surprised if even one of those five got the franchise tag. Since there's only one price tag for all offensive linemen, the projected salary ($13.678MM) is left-tackle money, and Osemele, Schwartz, and Smith haven't seen much – if any – playing time at left tackle. As for Okung and Beachum, I'm skeptical that their teams will want to invest too heavily in them, since they haven't been consistently healthy and elite in recent years.
If the Broncos strike a long-term deal with Miller soon, it would free up the franchise tag for quarterback Brock Osweiler or defensive end Malik Jackson. Even in the unlikely event that Miller and the Broncos agree to terms quickly though, the franchise salaries for Osweiler and Jackson may be a little too high.
Giants defensive end Jason Pierre-Paul got the franchise tag last year, but it'll be pricier this season, and obviously there are more question marks this time around, given the state of his right hand. As such, I don't think he's a real candidate to be tagged, despite New York's significant cap space. Bengals safety Reggie Nelson seems like a similar long-shot — he had another good season in 2015, earning his first Pro Bowl nod, but it would be surprising to see a team commit $10MM+ to a 33-year-old safety.
Finally, Tucker isn't the only kicker or punter who has a shot to be tagged. Jaguars punter Bryan Anger, Raiders punter Marquette King, and Packers kicker Mason Crosby are among the other special teams candidates. They're all less likely than Tucker to be franchised, but the Jags and Raiders have the most cap room in the NFL, so they could certainly afford it.
Follow @PFRumors