With several big-name wide receivers signing new contract extensions in 2015, the free agent market for 2016 has been left somewhat depleted. However, at least one player capable of being a No. 1 receiver remains on track to become a free agent, for now. And according to Ian Rapoport of NFL.com (via Twitter), there's a chance that the Bears could let Alshon Jeffery hit the open market.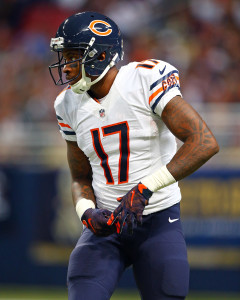 [RELATED: 2016 NFL franchise tag candidates]
While the general consensus has been that Chicago will use its franchise tag to lock up Jeffery, the team has yet to make a decision on whether or not to tag the former second-round pick, says Rapoport. Presumably, the Bears would prefer to sign Jeffery to a multiyear deal, rather than committing $14MM+ in 2016 cap room to him on the franchise tag, but Mike Garafolo of FOX Sports tweets that agent Eugene Parker is unlikely to budge much in contract negotiations until Chicago uses its tag.
If that is indeed Parker's position, it makes sense. Should the Bears franchise Jeffery, it would increase his floor for a long-term deal, putting the 26-year-old into the salary range of wideouts like Dez Bryant, A.J. Green, Julio Jones, and Demaryius Thomas.
Jeffery's case for a high-end contract may not be quite as strong as those players' cases were, but if he's tagged, his position in the marketplace virtually assures that any long-term extension he signs would place him among the league's highest-paid receivers. If Chicago decides not to use its franchise tag, Jeffery would have a chance to reach the open market in a year when he's the clear-cut top receiver available, which isn't a bad alternative for Parker and his client.
After averaging 87 receptions and 1,277 yards in 2013 and 2014, Jeffery was plagued by injuries in 2015, but he was excellent when healthy, averaging a career-high 89.7 yards per game. Ultimately, I'd expect the Bears to use the franchise tag on him to avoid letting him get away for nothing, but it will be an interesting situation to monitor over the next week and a half.
Photo courtesy of USA Today Sports Images.
Follow @PFRumors