Already, Dean Spanos and San Diego mayor Kevin Faulconer have engaged in phone conversations regarding the Chargers' future in the city and jointly met with San Diego county supervisor Ron Roberts. But team and city officials will meet this week to discuss the stadium project that would keep the Chargers in San Diego long-term, Eric Williams of ESPN.com reports.
The sides will discuss stadium proposals at Mission Valley, Calif., where Qualcomm Stadium is located, and a downtown initiative, with Wil
liams pointing out the parties need to agree on a site within the next two months to put the issue on the November ballot for a crucial vote on public funding.
San Diego's proposal for a $1.1 billion Mission Valley stadium, made public midway through last season while the Chargers were fixated on Los Angeles, includes $200MM from the NFL and $350MM from the city, among other expenses. Under Faulconer's proposal, a public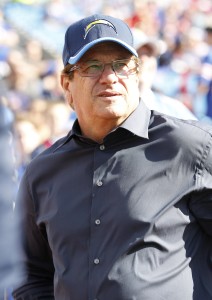 -money spending cap would be in place and force the Chargers to cover any cost overruns the project encounters.
Conversely, the Chargers would prefer a downtown site alongside the Padres' Petco Park. JMI Reality, per Williams, laid out plans for a $1.4 billion retractable-roof stadium for the Chargers.
An obstacle obviously comes from the vote requiring public funds to be used.
The team hopes to use the citizens initiative effort, Williams writes, to bypass environmental concerns centering around the Mission Valley site and streamline this effort. This process would skirt the potential legal issues by being
exempt from the California Environmental Quality Act. Signatures of 67,000 registered voters, however, would be required by April 1 to ignite this process.
According to Williams, the Chargers assembled the same legal, land-use and financial team the organization deployed to craft a fully entitled site in Carson, Calif., last year.
Either way, the Chargers having a future in San Diego beyond 2016 will require significant development in the near future. Already agreeing to share Stan Kroenke's Inglewood site as leverage in these talks, the Chargers' effort in San Diego will help determine how the Raiders proceed.
Photo courtesy USA Today Sports Images
Follow @PFRumors