Earlier today, Adam Schefter of ESPN.com reported that new Eagles head coach Doug Pederson has interest in bringing Rams quarterback Nick Foles back to Philadelphia. That report was met with some skepticism, based not only Philadelphia's apparent interest, but on Los Angeles' cap situation were they to trade Foles, so it's worth clearing up Foles' contract status.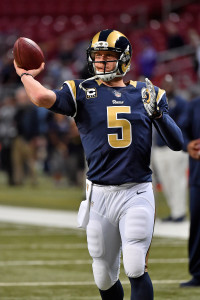 After acquiring Foles from the Eagles last offseason, the Rams in August signed him to an extension, locking him up through 2017 (that final season could void based on personal and team performance, but for this discussion, that note is largely irrelevant). As part of the multi-year deal, Foles received a guaranteed $6MM roster bonus, to be paid on the third day of the 2016 league year (which falls on March 11).
[RELATED: Rams have discussed pursuit of Peyton Manning]
Whether or not the Rams will be responsible for that roster bonus on their 2016 cap is based entirely on when they would potentially trade Foles. If they dealt him to the Eagles before March 11, Philadelphia would take on the bonus, and thus add $6MM (plus 2016 Foles' base salary of $1.75MM) to its cap. If Los Angeles waited until after March 11 to trade Foles, it would take on the $6MM charge in the form of dead money.
Obviously, we can't speak to the veracity of the report indicating the Eagles' interest in Foles. But if the Rams do hope to trade Foles to Philadelphia (or any club), they need to do so before March 11, and incur only $2MM in dead money (the result of Foles' signing bonus accelerating onto their cap). Otherwise, a trade would result in $8MM in dead money for Los Angeles, a charge that wouldn't be palatable given that Foles' 2016 cap number if he's on the roster is $8.75MM, just $750K more.
Thanks to Jason Fitzgerald of Over the Cap both for providing this article clarifying Foles' contract, and for answering further questions via email. Photo courtesy of USA Today Sports Images.
Follow @PFRumors