Johnny Manziel's agent has publicly parted ways with him and expressed concern about the quarterback's future, and he's not the only one close to Manziel who hopes the 23-year-old gets serious about getting help. According to Kate Hairopoulos of the Dallas Morning News, Manziel's family is concerned for his well-being, with his father Paul Manziel suggesting that his son has twice declined to be admitted to area rehab facilities in the last week.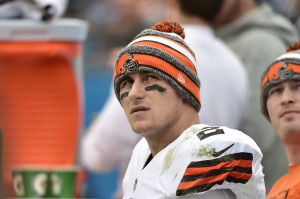 "I truly believe if they can't get him help, he won't live to see his 24th birthday," the elder Manziel said.
According to Hairopoulos' report, Manziel's family attempted last Saturday afternoon to get him to agree to go to the Enterhealth Ranch addiction facility in Van Alstyne, Texas. However, he refused to stay there. Paul Manziel said that he tried this Tuesday to have his son admitted to Carrollton Springs Hospital, but that Johnny was allowed to leave.
[RELATED: Browns expected to cut Johnny Manziel on March 9th]
Carrollton Springs is a psychiatric and chemical dependency hospital, working with patients who suffer from mental illness and/or addiction. Paul Manziel told Hairopoulos that he was upset that Johnny was allowed to leave after Paul told a Denton County Sherriff officer that he believed his son to be suicidal.
Manziel previously checked himself into a rehab facility in 2015 voluntarily, entering a program to treat possible alcohol dependence.
In a statement issued today, agent Erik Burkhardt announced that he was ending his professional relationship with the Browns quarterback, suggesting that he had spoken at length to Manziel's family, with all parties except the QB himself agreeing that he ought to seek help.
"Though I will remain a friend and Johnny supporter, and he knows I have worked tirelessly to arrange a number of professional options for him to continue to pursue, it has become painfully obvious that his future rests solely in his own hands," Burkhardt said. "His family and I have gone to great lengths to outline the steps we feel he must take to get his life in order. Accountability is the foundation of any relationship, and without it, the function of my work is counterproductive."
Police recently investigated a January dispute between Manziel and his ex-girlfriend Colleen Crowley, but ultimately elected not to file charges. Crowley told police that Manziel struck her several times and seemed to be on drugs, and that he also told her "shut up or I'll kill us both" after forcing her into a car and dragging her by her hair. Manziel denied those allegations.
Photo courtesy of USA Today Sports Images.
Follow @PFRumors