Broncos general manager John Elway said Thursday afternoon that pending free agent quarterback Brock Osweiler isn't a candidate for the franchise tag. He also doesn't seem like a candidate to receive a mega-contract – not from the Broncos, anyway.
"When you look at where the salaries are on quarterbacks, either above $15 million or below $5 [million]. There's no middle class of quarterbacks. So that's where you hope you could get a fair deal with Brock's people and his representatives," Elway told Mike Florio of Pro Football Talk.
Elway believes Osweiler will put himself in position to hit the jackpot in the future if he re-signs with the Broncos at a reasonable rate this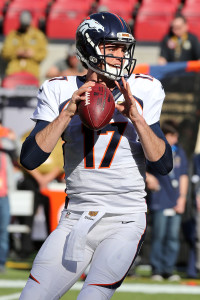 year.
"I think we do have a system that fits Brock very well," he said. "So for Brock to have continued success, I don't think will be, this won't be his big contract, but this will be a contract where he'll be able to make very good money and be able to prove himself that could lead to that next big contract."
It's fair to say Osweiler hasn't shown enough on the field to warrant top-caliber money, but he's young (25), was once a relatively high draft pick (a second-rounder in 2012), and possesses elite size (6-foot-8, 240 pounds). With all of that considered, Osweiler could exceed expectations on his next contract if he hits the free agent market March 9 and finds a QB-needy team willing to overpay for a slightly seasoned commodity.
While Osweiler showed hints last season of becoming the long-term solution under center for Denver, his numbers over eight games – 61 percent completion rate, 7.15 yards per attempt, 10 TDs, six picks – were unremarkable. Further, he wasn't part of the Broncos' playoff run after a knee injury knocked him out of action in Week 17. Peyton Manning, whose foot injury originally opened the door for Osweiler in November, took the reins back and never gave them up. Manning served in a game manager role throughout the postseason as the Broncos' defense steamrolled its way to a Super Bowl title.
Photo courtesy of USA Today Sports Images.
Follow @PFRumors