That's a wrap for Brock Osweiler. On Wednesday, Osweiler retired as an NFL player, as Mike Klis of 9News writes.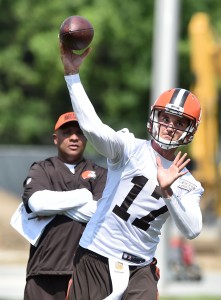 "I'm extremely grateful for the time I did receive playing in the National Football League,'' Osweiler said. "The experiences I did have, people I did meet, relationships I did make — I'm not going to dwell on the things that didn't happen in my career. Being a kid from Kalispell, Montana, playing for the Denver Broncos, winning a Super Bowl, having the opportunity to sign a second contract – when you look back on it, I couldn't be more appreciative. It was great."
Osweiler will be best remembered for his work in the latter half of the 2015 season as a fill-in for Peyton Manning. Thanks to his 5-2 record, the Broncos were able to finish out as divisional champs and eventually go on to win Super Bowl 50.
"Brock was a great teammate,'' Chris Harris Jr. said to Klis. "He was so huge for us in our Super Bowl run with how well he played when Peyton was injured. There is no way we get to that Super Bowl without Brock.''
Manning eventually took the job back and Osweiler moved on to the Texans, who gave him a four-year, $72MM deal. Things didn't go Osweiler's way in Houston, or in his brief stint with Browns, or in his second Broncos run. Still, he walks away from the game with a Super Bowl ring, lots of money, and enough stories to last ten lifetimes.
"There were so many learning moments throughout that year,'' he said of the Super Bowl season. "Don't get me wrong, there were hard, trying moments. But the lessons I learned coming out of the season is something I wouldn't trade for anything. I've always been a glass half-full guy. The things I will take from that season is I made relationships that will last the rest of my life. I had tremendous teammates. We won a division championship and we won a playoff game.''