On Friday morning, Twitter became flooded with rumors of a potential Rob Gronkowski trade. However, it appears that Patriots fans can breathe easy. There is "zero truth" to rumblings of the Patriots trading Gronkowski, a source tells Tom E. Curran of NBC Sports Boston (on Twitter).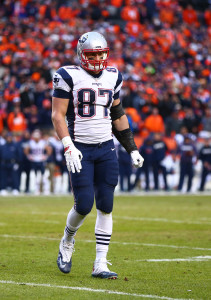 [On This Date In 2012: Gronkowski, Patriots Agree To Record-Setting Six-Year Extension]
At Pro Football Rumors, we typically do not go out of our way to address rumors from unsubstantiated sources, but the word of a potential Gronkowski trade has dominated the Twittersphere for several hours. Given the Patriots' history of embracing the next-man-up mentality, a trade of the most dominant tight end in the game would be a surprise, but hardly an impossibility.
Gronkowski stayed away for much of the Patriots' voluntary offseason team activities this year in an apparent effort to have his contract reworked. His arrival in Foxboro this week seemed to signal that a resolution was on the horizon, but the two sides have yet to hammer out a revised deal. Gronkowski's brief flirtation with retirement this offseason could also be a signal that the "Patriot Way" has grown tiresome for him.
One source who has been with the Patriots for years told Curran (Twitter link) the team's treatment of Gronk at the start of 2017 was similar to how other players have been treated before being dealt. Of course, that doesn't mean a whole lot in and of itself, and the tight end was not traded last year.
So, for now, we can put the Gronkowski trade rumors to rest. While major trades are more commonplace than ever in the NFL and Bill Belichick's methodology remains unpredictable, there's no reason to believe that Gronkowski will be in another uniform in 2018.
Photo courtesy of USA Today Sports Images.
Follow @PFRumors