Veteran Brandon LaFell suffered a torn Achilles back in mid-November, but the receiver doesn't believe that the injury will end his career. Speaking to Michael Gehlken of the Las Vegas Review-Journal, the Raiders wideout made it clear that he'll retire on his own terms.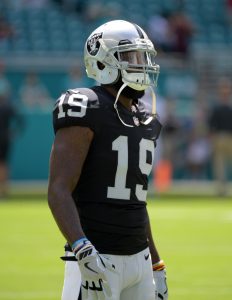 "I'm definitely coming back," LaFell said. "I'm leaving on my own terms. I'm not leaving like this. I'll be back. I'll definitely be back."
Of course, it remains to be seen if the 32-year-old will be able to garner any interest on the free agent market. LaFell estimated that he'll be fully recovered by the time June rolls around, which should mean he'll be fully healthy for training camp. Of course, that recovery could take longer than expected, and it's unlikely a team's going to take a chance on the receiver until he can prove that he's back to full strength.
Despite starting five of his six games, LaFell saw a reduced role during his cameo in Oakland. The wideout ended up hauling in 12 of his 16 targets, compiling 135 yards and two scores. The veteran didn't earn enough snaps to earn a spot on Pro Football Focus' ranking of the league's wide receivers, but his score would have place him in the bottom-half of the league. The six-foot-three receiver is now four seasons removed from his 953-yard campaign with New England back in 2014, although he did compile 862 receiving yards with the Bengals in 2016.