Panthers DE Charles Johnson is 29, is coming off an injury-plagued 2015 season, and has not posted a double-digit sack total since 2013. He is also entering the final year of a six-year, $76MM contract he signed in 2011, and he is scheduled to count $15MM against the salary cap in 2016. Given the emergence of Kawann Short–whose contract situation must be addressed in the near future–and Kony Ealy, Carolina could release Johnson, saving a much-needed $11MM in cap space in the process, and replace him with a cheaper alternative.
[RELATED: Jared Allen Announces Retirement]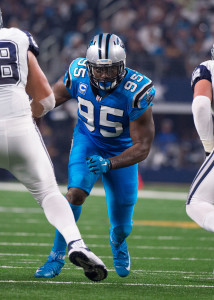 But the $15MM cap number is just unpalatable, and as Joseph Person and Jonathan Jones of The Charlotte Observer report, Johnson will have to agree to restructure his contract and take less money or risk being cut. Person and Jones point out, though, that GM Dave Gettleman has a special affinity for pass rushers, and Johnson may find that whatever the Panthers ask him to take could still be more than what he could get on the open market.
If the two sides do end up parting ways, Jones looks at five pass rushers who could be available in the draft (the 2016 draft class has a great deal of pass rushing depth, which could make the decision to release Johnson a little easier). Although elite prospects like Joey Bosa and DeForest Buckner will certainly be gone before the Panthers' No. 30 overall pick rolls around, players like Oklahoma State's Emmanuel Ogbah, Michigan State's Shilique Calhoun, and Clemson's Kevin Dodd are worthy early-round targets.
Person and Jones also examine five potential replacements for Johnson that could be available in free agency, a group that is headlined by Jason Pierre-Paul, who was selected by the Giants when Gettleman was on New York's staff. The Giants will reportedly attempt to re-sign JPP, but they will not put the franchise tag on him or sign him to a mega-deal, so he could end up testing the free agent waters. He will likely sign an incentive-laden deal with someone, but Person and Jones express skepticism that Carolina will be the team to give him such a contract.
Ultimately, the Panthers may be better off releasing Johnson, using some of the $11MM saved to sign a more under-the-radar free agent like William Hayes, and capitalizing on the draft's pass rushing depth to pick up a high-upside rookie in the middle rounds. They could then put the rest of that cap space–along with the $8.5MM of room that was created when Jared Allen announced his retirement–towards the franchise tag for cornerback Josh Norman. Johnson, if he is released, should have little trouble finding a new team on the lookout for pass rushing help–which is basically every team in the league–especially since he would not count against his new club's compensatory pick formula.
Photo courtesy of USA Today Sports Images
Follow @PFRumors