When police investigators turned over the nightclub assault case involving LeSean McCoy to Philadelphia's District Attorney last week, it sounded like arrest warrants would be issued within the next day or two. However, the District Attorney's office has been very deliberate in going over the case, and John Gonzalez of CSNPhilly.com hears from law enforcement officials that the D.A.'s office is "pushing back" against issuing a warrant for McCoy's arrest.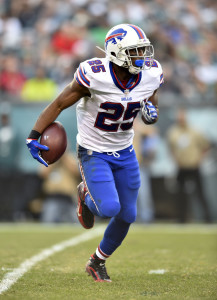 According to Gonzalez, there has been some tension during the last few days between the District Attorney's office and the Philadelphia Police Department due to the delay in charging McCoy and his three companions who were allegedly involved in a nightclub fight with off-duty police officers. Sources tell Gonzalez that the D.A.'s office is hesitant to issue warrants because it has questions about the conduct of those off-duty officers, including the fact that they didn't call 9-1-1, as well as whether they were drinking to excess.
As the D.A.'s office decides how to proceed, Dennis Cogan, one of McCoy's attorneys, suggests to Vic Carucci of The Buffalo News that his client doesn't deserve to face charges.
"We're awaiting a decision by the DA's office," said Dennis Cogan, one of two criminal defense attorneys representing McCoy. "We trust that they are really taking time to consider all the surrounding circumstances. But I'm here to say and I'm telling you that McCoy did nothing wrong, nothing wrong. And he was sober. The questions will have to be asked about the conditions of other people."
A source close to the investigation tells Carucci that the Philadelphia D.A.'s office will likely hold a news conference on either Thursday or Friday to share its findings, though it's not clear if that means warrants will be issued.
Photo courtesy of USA Today Sports Images.
Follow @PFRumors