Under Chip Kelly's watch, the Eagles shipped star LeSean McCoy to the Bills. After Kelly was canned, top exec Howie Roseman tried to bring him back to the nest. Roseman tried to reacquire McCoy in a trade with Buffalo after Kelly was fired "through back-channel intermediaries," according to sources who spoke with Manish Mehta of the Daily News.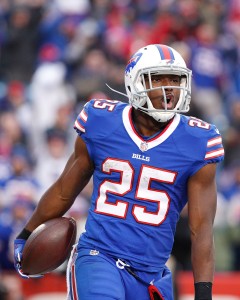 The Eagles pitched one package including wide receiver Jordan Matthews, according to Mehta. Of course, Matthews later wound up in Buffalo in a different deal last summer that brought cornerback Ronald Darby to the Eagles.
A McCoy return would have delighted the Philadelphia faithful, but things worked out just fine for the Eagles in the long run. During the season, Roseman swung a surprising pre-deadline deal for Dolphins runner Jay Ajayi, who has provided the Eagles with some much-needed athleticism out of the backfield. On Sunday, the Eagles will have the opportunity to win their first ever Super Bowl, thanks in part to his presence.
McCoy didn't have the best season in 2014, but he was still productive for Philadelphia at the time of the trade with 1,319 rushing yards and a 4.2 YPC average in that season. In 2013, McCoy was rated as the very best tailback in football according to Pro Football Focus. In his three seasons with Buffalo, McCoy has averaged 4.6 yards per carry and has averaged 1,200+ yards per 16 games. Kelly anticipated that McCoy would fall off by now, but he remains one of the league's most lethal running backs.
Photo courtesy of USA Today Sports Images.