Prior to the Super Bowl, veteran running back LeSean McCoy said that if he won his second ring in as many seasons, he'd consider hanging up his cleats and walking away from the game. McCoy easily picked up his second championship with the Bucs' win over the Chiefs, but it didn't take him very long to decide retirement isn't what he wants.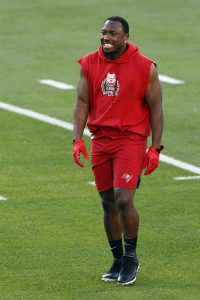 On a recent appearance on NFL Network's 'Good Morning Football,' McCoy said he'd like to keep playing and that he's already had conversations with his agent about finding a new team, via Chris Franklin of Lehigh Valley Live.
"The only thing is it has to be the right team," McCoy said. "I can't go from two Super Bowls to playing with BA (Bruce Arians), Andy Reid, Tom Brady, and (Patrick) Mahomes to not even having a team that's competing. I'm still a competitor. To bring me back, I have to play for a team that is a contender, or with some young guys I could help out. I still want to be effective and get a shot to play and showcase my talent. I still have some more highlights to give out."
It sounds like after 12 seasons in the league he has no interest in playing for any random team, which is understandable. McCoy played sparingly for Tampa this season, getting only 10 carries and 15 receptions in 10 games. He'll turn 33 in July, and if any team wants him it'll be more as a veteran locker room presence than on-field contributor. He was on a one-year minimum deal with the Bucs, and likely won't be brought back considering they've already got Ronald Jones and Lombardi Lenny Fournette in the fold.
One of the most accomplished running backs of the past decade, McCoy made six Pro Bowls in seven seasons from 2011-17. As recently as 2019 with the Chiefs he had 129 touches, so maybe he's still got a little bit left in the tank. If nothing else he can claim to be good luck for whatever team signs him after the way his past two campaigns have gone.
Photo courtesy of USA Today Sports Images.
Follow @PFRumors