Aldon Smith is in trouble once again. According to a report from TMZ.com, the former Pro Bowler was arrested on Monday and booked on a felony charge of DUI causing injury.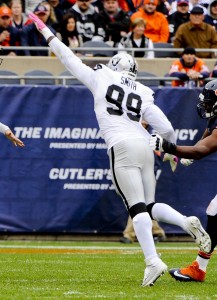 According to the report, records show that Smith was booked into a Northern California jail on Monday evening. The 32-year-old's bail was set at $50K, and he's scheduled for a court hearing on Wednesday.
The former first-round pick battled legal issues (including multiple DUI arrests) during his first NFL run and during his ensuing four-plus-year hiatus. The Cowboys ended Smith's exile from the NFL in 2020, and the defensive end finished the season with 48 tackles and five sacks in 16 starts. He caught on with the Seahawks back in April, but that signing was followed by another arrest, this time on a second-degree battery charge.
Seattle ended up cutting Smith in August, and he's remained a free agent since that time. The player has been arrested twice since his reinstatement from the NFL, and while he seemed to be on the right track in 2020, his NFL future is once again in doubt.