MONDAY: The team made it official, announcing a tag for Bates. The fifth-year safety will be tied to a $12.911MM salary if he plays the season on the tag. Bates said last month he would be disappointed if tagged, but he and the Bengals now have four-plus months to negotiate an extension.
SATURDAY: Despite working over the past two years towards a contract extension, it appears Bengals' safety Jessie Bates is destined to play out the 2022 NFL season under the franchise tag. Bates and the Bengals won't give up on attempts to reach a long-term deal, but they will do so with the tag acting as a failsafe, according to Tyler Dragon of USA Today.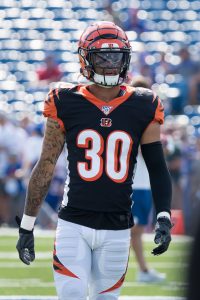 As a second-round pick out of Wake Forest in the 2018 NFL Draft, Bates has been everything the Bengals have asked for and more. He quickly earned a starting role as a rookie and recorded three interceptions in each of his first three NFL seasons, ending the 2020 season as Pro Football Focus' top ranked safety. His play dipped a bit this past year, but, when his team needed him in the playoffs, Bates stepped up recording two interceptions, one in Super Bowl LVI.
Now Bates is set to extend his current contract, play the 2022 season under the franchise tag, or hit the open market. Franchises patiently waiting for him to become a free agent will likely be disappointed. Bates and Cincinnati both intend for the safety to stay long-term.
Bates has shown much frustration over the past two years, fearing the unpredictability that comes with a franchise tag. "Hopefully, I'm not under a franchise tag," Bates said in an appearance on NFL Network. "That's something that needs to be discussed as NFLPA a little bit. Some of the top guys got hurt under a franchise tag. It's tough; you only get one shot at this."
With three days until the franchise tag deadline, the Bengals are playing it safe and making sure that they have a bit of extra time. After the franchise tag window closes, the team will have nearly five more months to finalize a deal with Bates. The tag is expected to pay around $13.54MM for the 2022 season.
Bates has long said that he is not overly concerned with "the ego part of being the highest-paid safety." The highest-paid safeties currently are Jamal Adams, Harrison Smith, and Justin Simmons. Adams is a strong safety that plays all over the field and gets compensated more in the realm of a well-paid linebacker, making him the top-earning safety in the league at an average of $17.5MM per year. Smith is a strong safety that plays a more traditional safety position than Adams. He signed an impressive four-year, $64MM deal averaging $16MM per year at the ripe old age of 31 years old. Simmons is the league's top-earning free safety. After playing out two consecutive seasons under the franchise tag, Simmons signed a four-year, $61MM deal averaging $15.25MM per year at 27 years of age. Bates is likely aiming for the $15-16MM per year range or is maybe willing to take $14-15MM per year for an extra year or two under contract.
At 25, Bates is in a similar position as Simmons was when he received his first franchise tag. There's no doubt that Bates could absolutely increase the value of his deal after playing under the franchise tag like Simmons did, but Bates' concerns over the lack of security provided by the tag aren't unfounded. Both sides will continue working towards an agreement that keeps the safety in Cincinnati long-term with the compensation and security he desires. Until that time, though, Bates will have the franchise tag hanging over his 2022 season.